So you've bought home one or more baby chickens and you're brainstorming names for a baby chicken.
Naming any pet is loads of fun, but can also be quite stressful.
There are so many possible names…. And you can only settle on one.
To help inspire you, or hopefully help you find the perfect name, here are some lists of names for baby chicks or adult hens and roosters.
Classic/Common Names for Baby Chickens
If you're a traditional kind of a person, here are some of the stereotypical common names people often end up calling chicks in their flock:
Abby
Abigail
Albert
Bean
Bessie
Bluebelle
Bo
Chester
Chippy
Chuck
Clementine
Daisy
Delilah
Dixie
Duke
Dusty
Earl
Earthy
Eloise
Ethel
Fletcher
George
Goldie
Haggard
Hank
Henrietta
Irene
Johnny
Loretta
Merle
Nora
Norman
Olive
Otis
Sam
Funny Egg & Chicken Pun Names for Baby Chickens
It's common to take chicken-related words and put a spin on them for other uses known as egg pun names. Such as Egg-celent, Egg-ceptional, and so on.. I think you've heard more than enough of these.
So, it will come as no surprise that a lot of people use egg puns to name their chicks, here's some of the best (or worst, depends if you like puns).
Abraham Leghorn
Albert Eggstein
Amelia Egghart
Chick Jagger
Chick-a-las Cage
Chick-eel O'neil
Chickira
Chickovsky
Cluck Norris
Clucky
David Peckham
Donald Trumpet
Eggbert
Hen Solo
Hilary Fluff
Leghorn Beethoven
Margaret Hatcher
Mary Poopins
Meryl Cheep
Michael Hatch-son
Mother Clucker
Princess Lay-a
Russell Crow
Sir Clucks-a-Lot
Yolko Ono
Cute Baby Chicken Names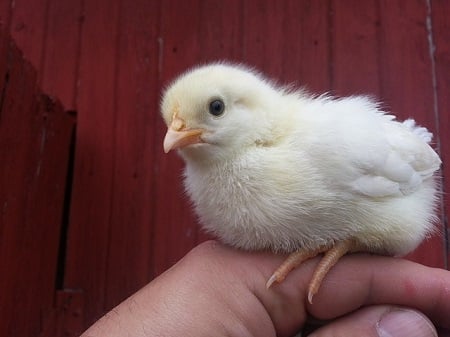 This list wouldn't be complete without some cute chicky names. All chicks are cute when they're just a few days old, so it shouldn't be hard attaching one of these names:
Bubbles
Cheese Puff
Cherub
Cotton Candy
Cuddles
Cupcake
Daffodil
Dawn
Dodo
Feathers
Fluffy
Marshmallow
Midget
Midnight
Moon
Pecky
Pickle
Pompom
Sunshine
Tickle
Tike
Tootsie
Some Tips to Help You Name Your Chick
Use Their Colors or Markings for Inspiration - It's a simple way to name a chicken, but with an ever-growing flock it's one of the best ways not to forge their name. Unless that is, you have lots of chickens with similar colors.
Word Play on the Name of Their Breed - Maybe the name of their breed gives you something to start with. Like a Rhode Island Red could be called Red, Rhode, etc. I have a friend with Plymouth Rock called "P-Rock"!
Name Them After Their Personality Traits - You don't have to name a chick as soon as you get them. If you give them a few days to settle you might notice a personality trait that's perfect to name them after.
Like Chatty, Bossy, Silly, etc.
What's the First Word That Comes to Mind? - Sometimes I just look at a chicken and a word pops into my head that describes them perfectly. That's how I ended up with a chicken called Scruffy. Make of that what you will.
Can Chickens Learn Their Names?
This depends on who you ask.
Personally, I think there is something there. I'm sure chickens are either able to associate the sound you make when using their name, or the familiarity of you using their name.
I've seen it with my own flock too many times to think anything else.
There have also been some interesting studies into just how intelligent chickens are, and the results are pretty surprising - even to me.
This article published by the BBC does a good job of summarizing some of these studies. It basically explains that chickens can learn from their surroundings at a very early age.
They're also able to respond to things they've learned, and are "far more cognitively advanced" than we previously thought.
Don't underestimate your chicks. Next time you see them engage in conversation, have a chat and use their names. See if they start to respond to their name more in the future.