The Silkie chicken breed is a unique-looking bird that is beloved around the world as a pet and show chicken.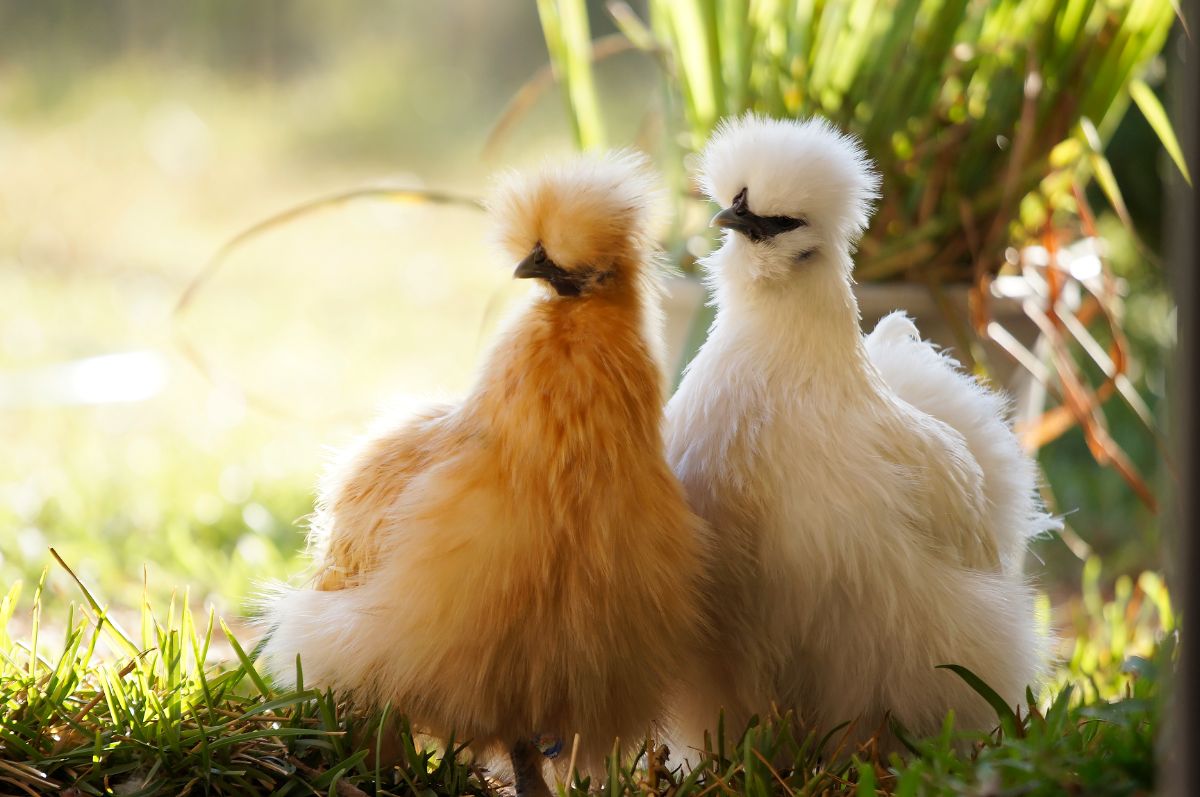 Silkie hens are known to be very broody and make excellent mothers to their chicks.
However, they are not prolific egg layers and will stop laying completely when they go broody. Their eggs are small in size and cream to light brown in color.
They are true pets and show chicken and are rarely used for meat in the United States.
Jump to:
How to Buy Online Silkie Chickens

Blue Silkie Bantams As low as: $4.95 - Read reviews
White Silkie Bantams As low as: $4.95 - Read reviews
Black Silkie Bantams As low as: $4.95 - Read reviews
Splash Silkie Bantams As low as: $4.95 - Read reviews
Buff Silkie Bantams As low as: $4.95 - Read reviews
Silkie Chicken Breed Quick Info
Silkie Chicken Description
| | |
| --- | --- |
| Silkie Type/Size: | Standard |
| Feather Color: | Varies |
| Leg Type: | Feathered |
| Leg Color: | Dark blue |
| Skin Color: | Dark blue |
| Silkie Ease of Raising/Keeping: | Medium |
| Silkie Special Care Needs: | Yes |
| Is the Silkie breed a common, rare, or protected breed of chicken? | Common |
Silkie Use
| | |
| --- | --- |
| Meat | No |
| Eggs | Sometimes |
| Dual Purpose | No |
| Silkie Temperament: | Friendly, docile, calm |
| Silkie Ability/Likelihood to Free Range: | Yes |
Silkie Egg Production
| | |
| --- | --- |
| Egg Color | Cream |
| Egg Size | Small |
| Estimated Number of Eggs Per Year | 120-150 |
| Likeliness to Brood Eggs/Raise Chicks | High |
Silkie Meat Production
| | |
| --- | --- |
| Dressed Weight Male | N/A |
| Dressed Weight Female | N/A |
Silkie Climate Tolerance
Silkie Age to Maturity
| | |
| --- | --- |
| Number of Months to Reach Full Size | 5 Months |
| Number of Months to Start Egg Laying | 5 Months |
| Number of Weeks/Months to Reach Meat Harvest Size | N/A |
Silkie Size at Maturity
Origins of the Silkie Chicken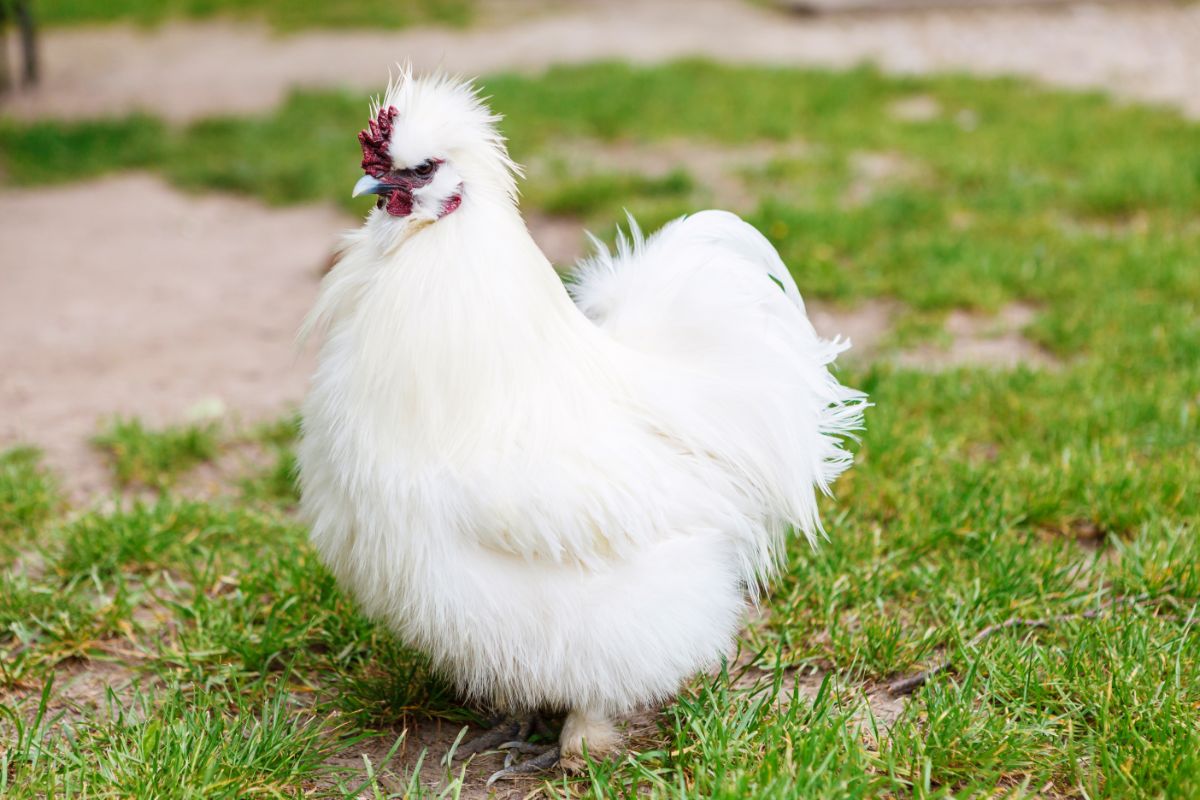 This small, fluffy chicken is believed to have originated in Southeast Asia or China.
In the 13th century, Marco Polo was the first to write about these birds during his travels to Asia. He compared their fluffy plumage to fur and noted their black skin.
Hundreds of years later, the Silkie spread around the world and become beloved for its unique appearance. It became an official breed in the United States in 1874.
Some Things to Know About the Silkie Chicken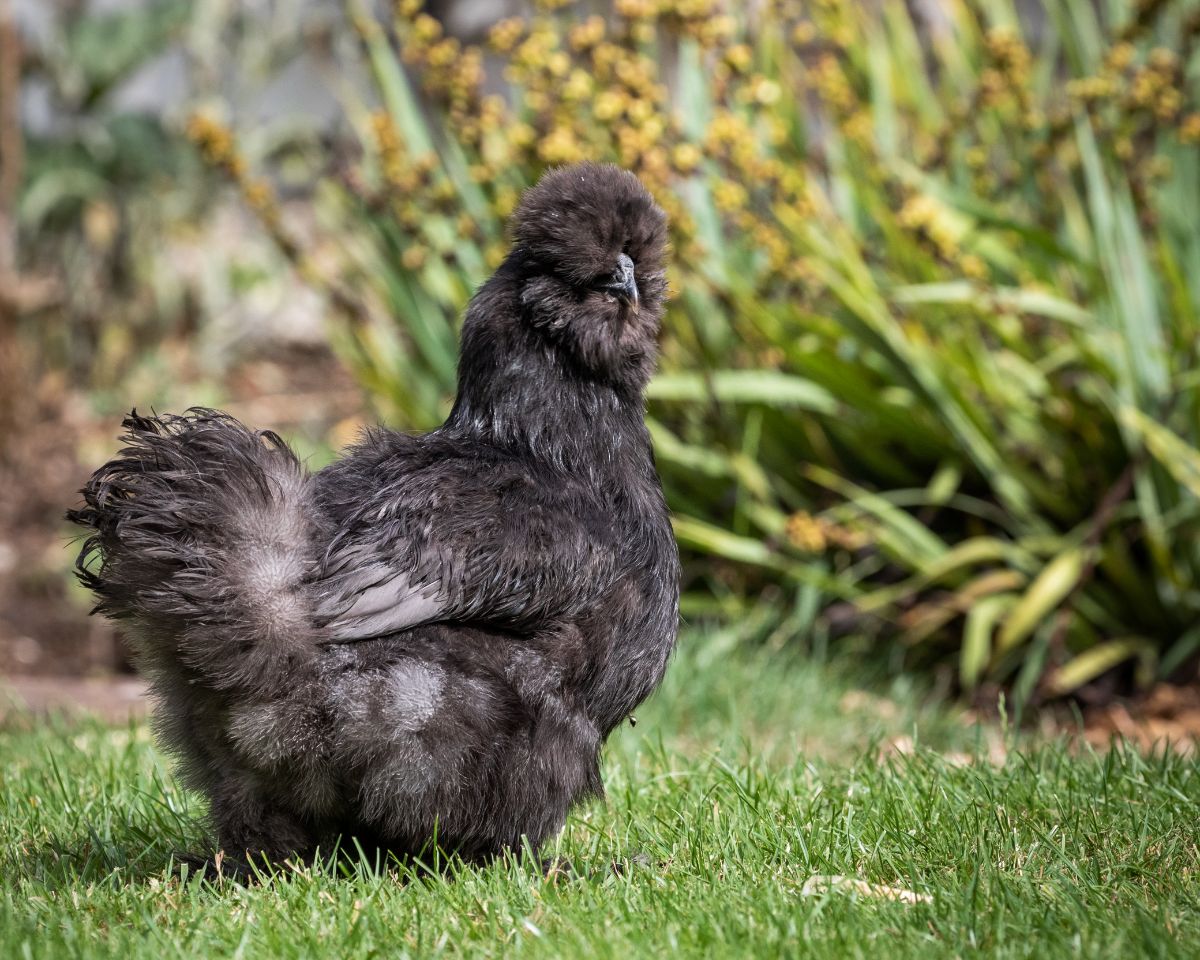 The Silkie chicken's plumage is one of the most unique in the world and is one of the reasons they are so popular as a show and pet bird.
Their feathers have a silky, fur-like appearance and feel to them. The reason behind their silky look is the lack of barbicels in their feathers. This is a part of the feather structure that holds the different parts of the feather together, making the feather look "normal."
They come in a variety of different colors, including buff, blue, black, and white.
Their skin and earlobes are a dark blue, almost black, color. Another interesting fact about this breed is that their meat and bones are also dark blue!
Silkies also have five toes, while most chicken breeds have four. Their legs are feathered, and they have a distinct crest of feathers on top of their heads. This looks similar to the crest on the Polish chicken.
How Easy is it to Keep Silkie Chickens?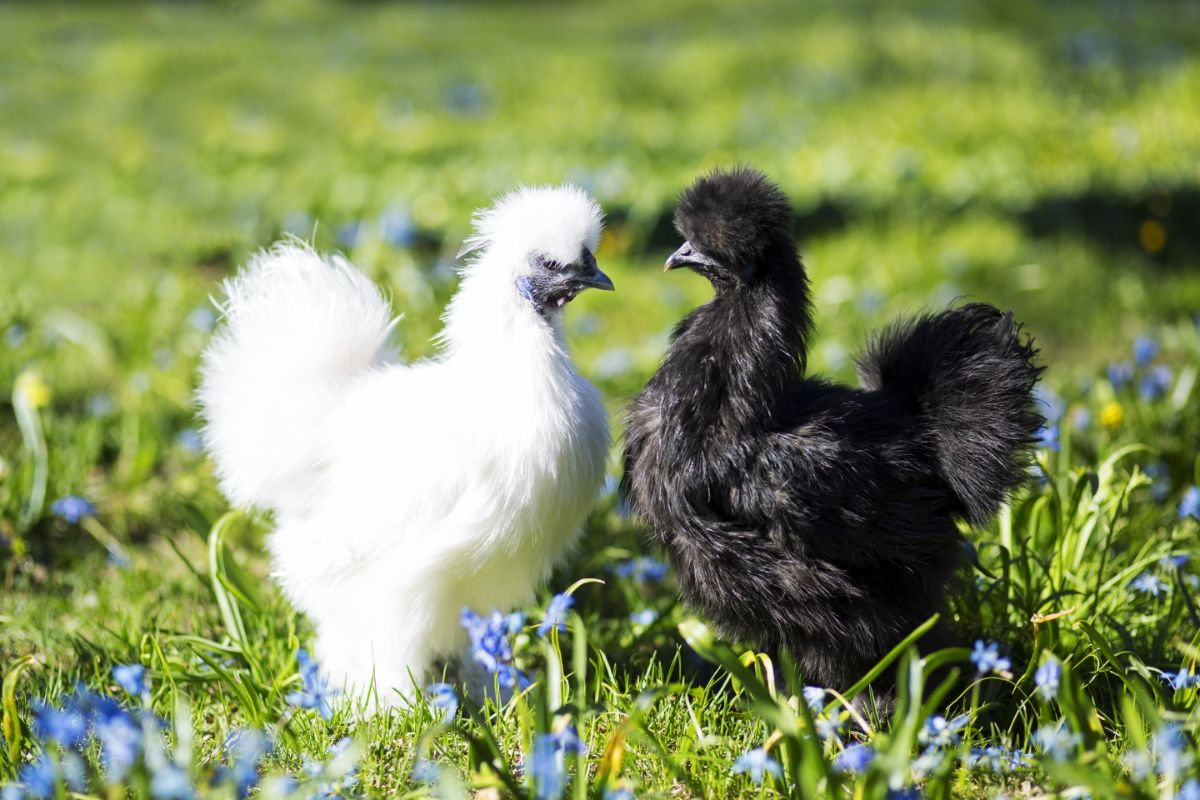 The Silkie chicken breed is a wonderful choice for beginner chicken owners. They are calm, gentle, and have an overall docile temperament.
They are easy to raise and care for and are a great chicken breed for children. Silkies get used to being handled very quickly, so they make an excellent pet and show chickens. They are also known to be very quiet.
These birds tolerate confinement well. Due to their fluffy feathers, they cannot fly, so they will stay put as long as you have a fence around them.
If you're planning on free-ranging your Silkies, though, be aware that they cannot fly or run quickly to escape predators. You should keep them in a protected area where they can roam and forage safely.
Special Care and Considerations for Silkie Chickens
Because Silkies lack barbicels in their feathers, they are unable to shed water, as well as other breeds. Therefore, they need protection against rain and snow, so they don't get soaked.
If they do get wet, they may need to be towel-dried or blow-dried — which they can certainly learn to enjoy if they are pampered regularly!
Another thing to be aware of when caring for Silkies is their flock mates. Due to their gentle, friendly nature, they do best with other non-aggressive breeds like Cochins and Polish chickens.
Silkies are more prone than other breeds to Marek's disease. It is recommended that you have your Silkies vaccinated to protect them against this virus.