The Onagadori chicken is a beautiful, unique bird used for ornamental purposes because of its infamously long tail feathers. They hail from Japan and are considered an endangered species of livestock in the United States.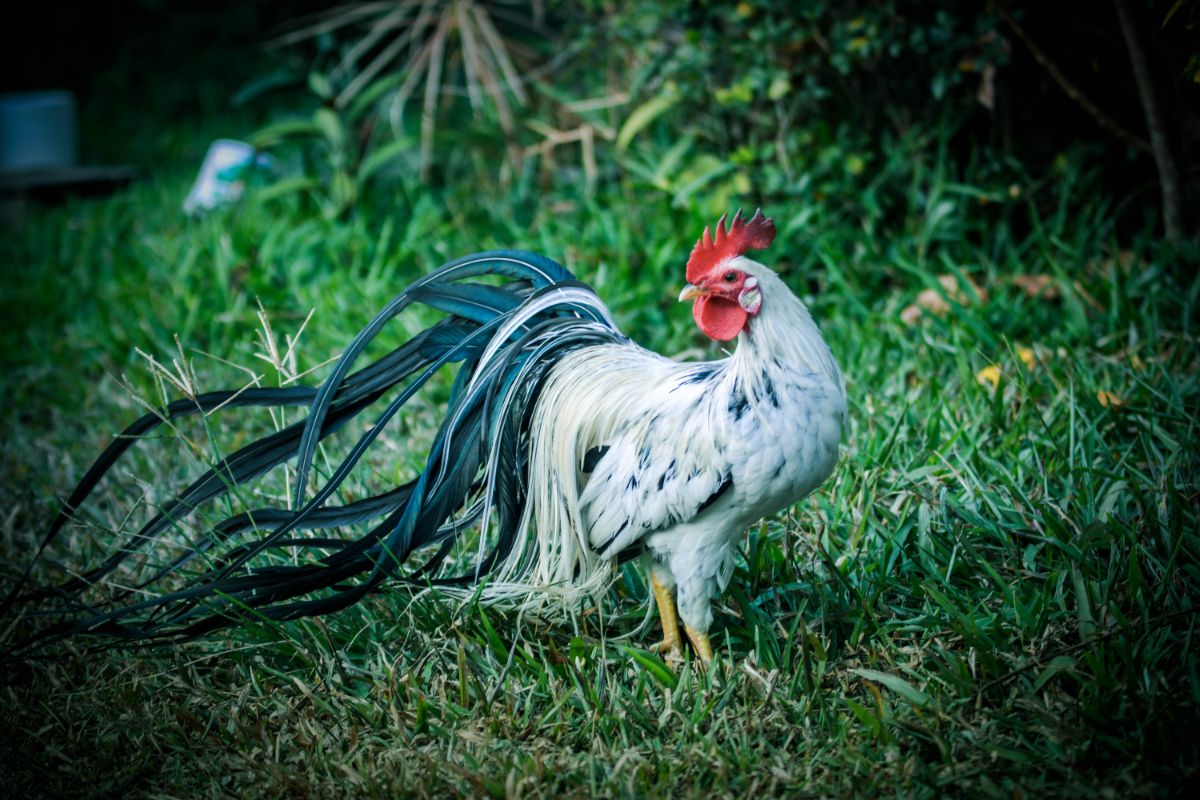 They are not generally used for meat or egg production, as hens will only lay around 80 medium-sized light brown eggs each year. They are not prone to becoming broody, but when they do, hens are fiercely protective of their chicks.
Jump to:

Onagadori Chicken Breed Quick Info
Onagadori Chicken Description
| | |
| --- | --- |
| Onagadori Type/Size: | Standard |
| Feather Color: | Varies |
| Leg Type: | Clean |
| Leg Color: | Yellow |
| Skin Color: | Yellow |
| Onagadori Ease of Raising/Keeping: | Medium |
| Onagadori Special Care Needs: | Yes |
| Is the Onagadori breed a common, rare, or protected breed of chicken? | Rare, "endangered" status |
Onagadori Use
| | |
| --- | --- |
| Meat | No |
| Eggs | No |
| Dual Purpose | No |
| Onagadori Temperament: | Calm, docile |
| Onagadori Ability/Likelihood to Free Range: | Yes |
Onagadori Egg Production
| | |
| --- | --- |
| Egg Color | Light Brown |
| Egg Size | Medium |
| Estimated Number of Eggs Per Year | 80 |
| Likeliness to Brood Eggs/Raise Chicks | Low |
Onagadori Meat Production
| | |
| --- | --- |
| Dressed Weight Male | N/A |
| Dressed Weight Female | N/A |
Onagadori Climate Tolerance
Onagadori Age to Maturity
| | |
| --- | --- |
| Number of Months to Reach Full Size | 8 Months |
| Number of Months to Start Egg Laying | 7 Months |
| Number of Weeks/Months to Reach Meat Harvest Size | N/A |
Onagadori Size at Maturity
Origins of Onagadori Chicken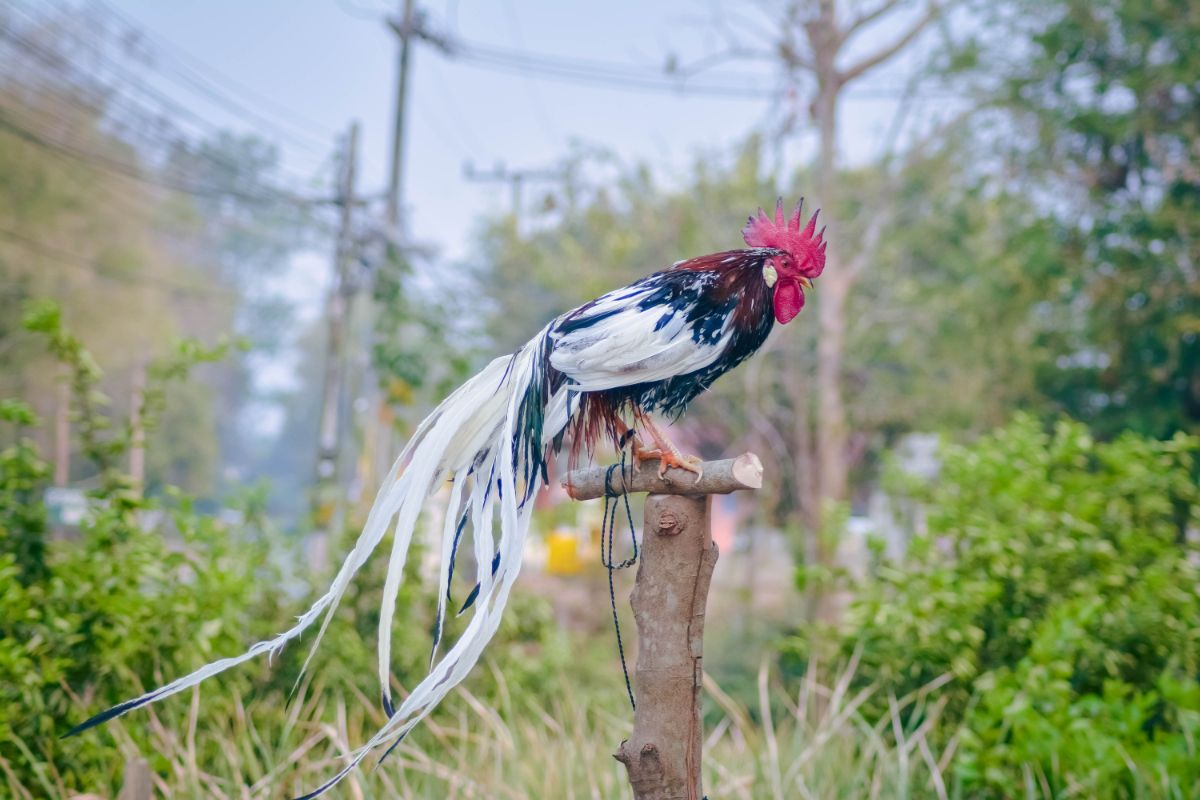 This breed originated in Japan, in the Tosa Province. It is an old breed thought to have originated during the Edo period in the 1600s.
Today, it remains extremely rare outside of Japan and is not recognized in the United States.
Some Things to Know About Onagadori Chicken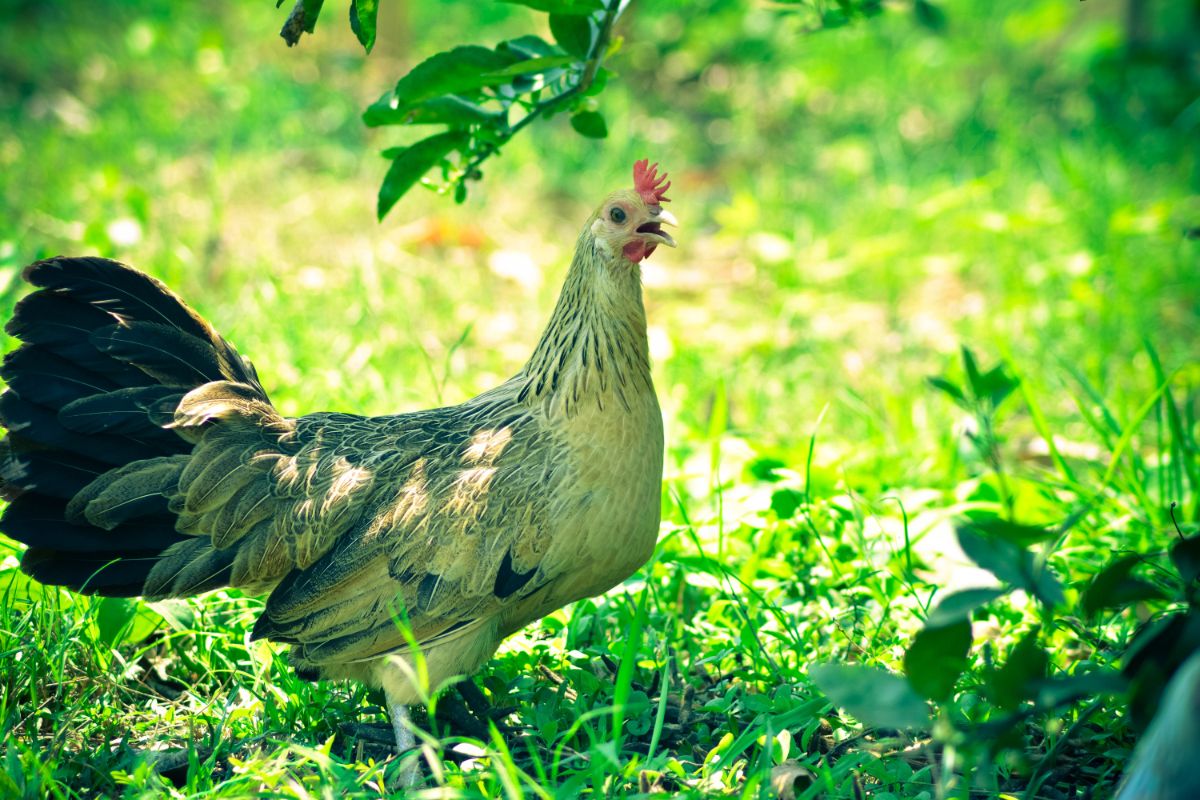 The Onagadori chicken has a striking, impressive appearance. The tail feathers of this breed do not molt; instead, they continue to grow, sometimes reaching 20 to 30 feet in length!
You can find them in three different colors: black-breasted red, black-breasted white, and white. They have white earlobes and a large, single comb (which puts them at risk for frostbite). The average tail length is at least four feet.
How Easy is it to Keep Onagadori Chickens?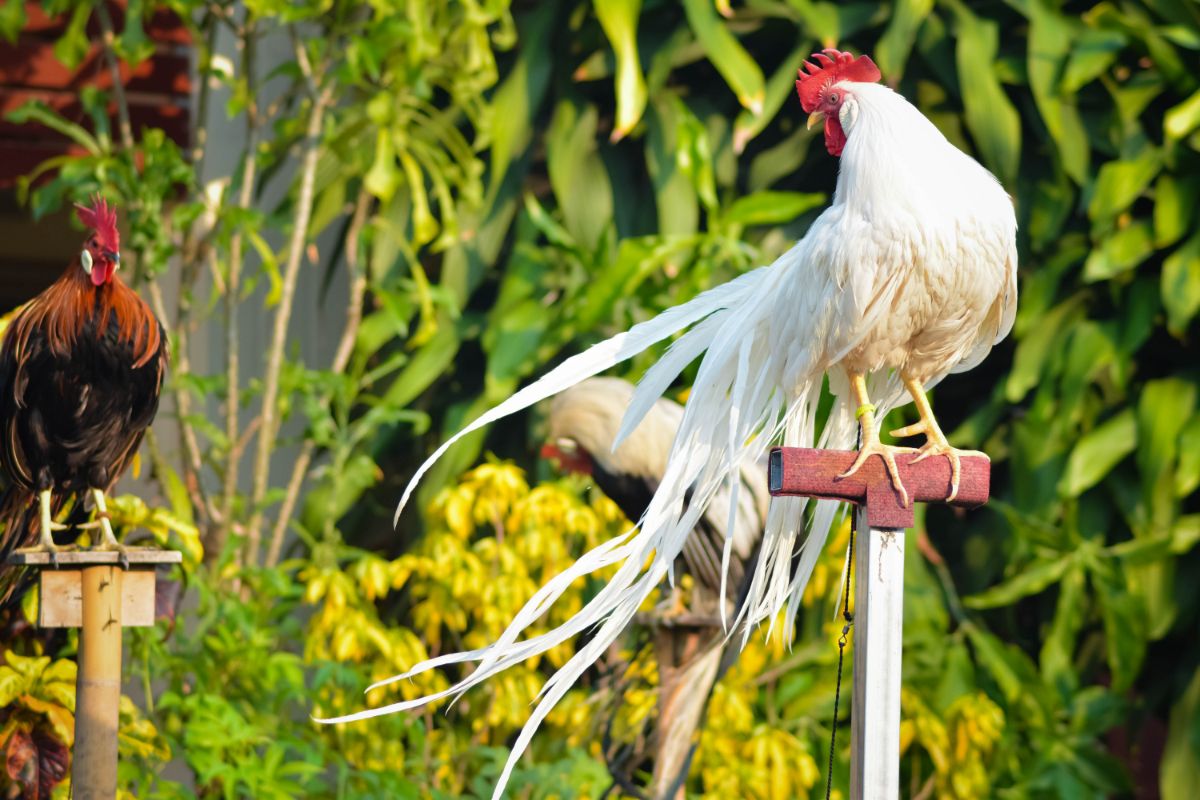 Onagadori chickens are very intelligent birds with great memory retention. They are even frequently used in animal cognition research studies.
They require extra care for their tail feathers but are overall calm and docile, making them relatively easy to care for. While they may not be the best option for beginner chicken owners, they make a beautiful addition to an established flock.
Special Care and Considerations for Onagadori Chickens
Like all chickens with large single combs, Onagadori chickens are at risk for developing frostbite in the wintertime. You can use a swipe of vaseline to protect their combs from freezing in low temperatures.
Their long tail feathers also require some special care and attention. Their tail plumage can be caught and damaged if they are not kept clean and in a supervised area. They require large spaces so that their tails are not threatened by the dangers of small roosting areas.
This breed also requires a high protein diet because they are designed to convert protein into energy more efficiently than other breeds. Finally, watch out for lice and mites, which can hide in their tail feathers.