The Marsh Daisy is one of the UK's most endangered chicken breeds. In fact, there are less than two hundred hens used for breeding throughout the UK!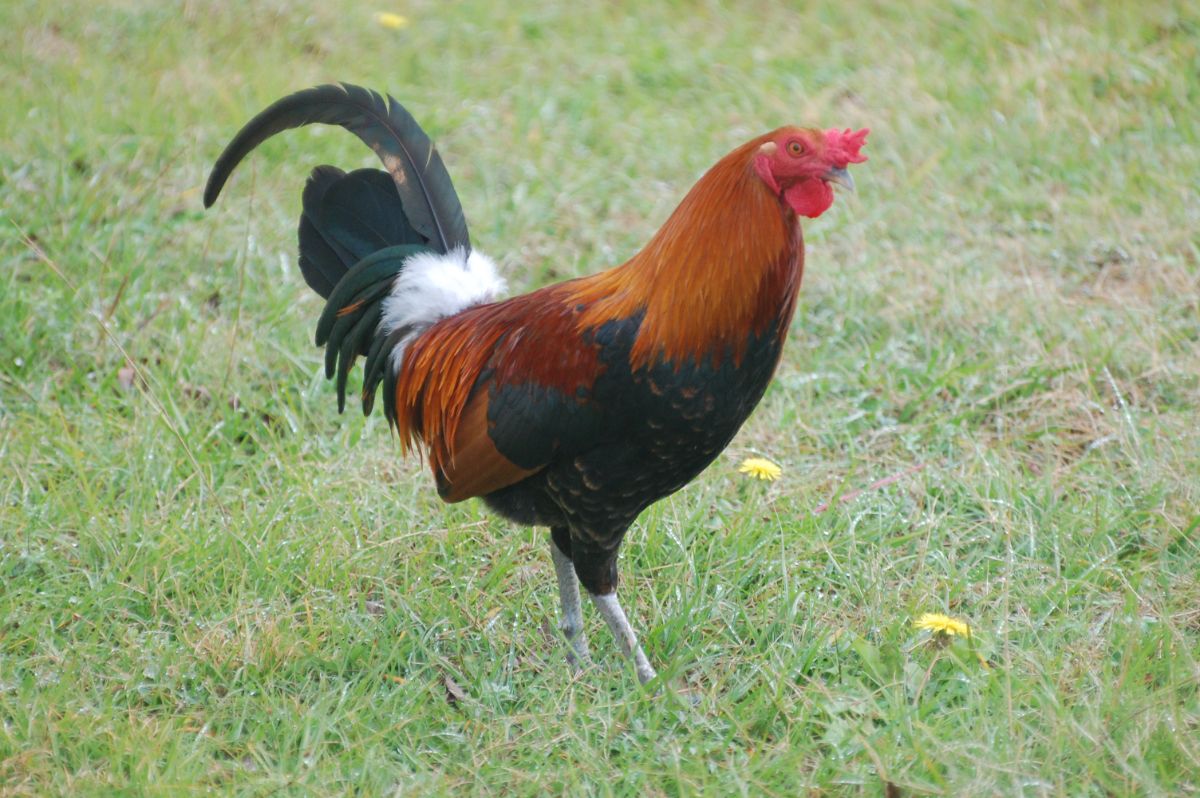 It is known for its distinctive appearance and docile temperament. This makes them excellent pets and shows birds.
Marsh Daisy chickens are not only good egg-layers, laying well into the winter when other breeds slow down or stop completely, but are also wonderful pets because they are very friendly.
These chickens are not a fast-growing breed, but they do have excellent meat quality; their flesh is firm and lean but tender and flavorful.
Jump to:

Marsh Daisy Chicken Breed Quick Info
Marsh Daisy Chicken Description
| | |
| --- | --- |
| Marsh Daisy Type/Size: | Standard |
| Feather Color: | Varies |
| Leg Type: | Clean |
| Leg Color: | Green |
| Skin Color: | Yellow |
| Marsh Daisy Ease of Raising/Keeping: | Easy |
| Marsh Daisy Special Care Needs: | No |
| Is the Marsh Daisy breed a common, rare, or protected breed of chicken? | Rare, endangered |
Marsh Daisy Use
| | |
| --- | --- |
| Meat | Yes |
| Eggs | Yes |
| Dual Purpose | Yes |
| Marsh Daisy Temperament: | Friendly, active |
| Marsh Daisy Ability/Likelihood to Free Range: | Yes |
Marsh Daisy Egg Production
| | |
| --- | --- |
| Egg Color | Cream to Light Brown |
| Egg Size | Medium |
| Estimated Number of Eggs Per Year | 200-250 |
| Likeliness to Brood Eggs/Raise Chicks | Low |
Marsh Daisy Meat Production
| | |
| --- | --- |
| Dressed Weight Male | 6 ¾ lbs. |
| Dressed Weight Female | 6 lbs. |
Marsh Daisy Climate Tolerance
Marsh Daisy Age to Maturity
| | |
| --- | --- |
| Number of Months to Reach Full Size | 5 Months |
| Number of Months to Start Egg Laying | 5 Months |
| Number of Weeks/Months to Reach Meat Harvest Size | 12 Weeks |
Marsh Daisy Size at Maturity
Origins of the Marsh Daisy Chicken
The Marsh Daisy chicken is a heritage breed that originated in England.
A man named John Wright developed this breed in a small village near Southport, England, in the late 19th century. The area where they were raised was a near-swamp in the winter, which earned them their name.
They were developed by crossing the White Leghorn with the Malay and the Old English Game bantam, among other breeds. They were created to be a dual-purpose breed, meaning they could be used for eggs and meat.
They remained low in popularity through the 20th century. Today, this breed is in danger of extinction. They are included on the Rare Breed Survival Trust Watch List.
Some Things to Know About the Marsh Daisy Chicken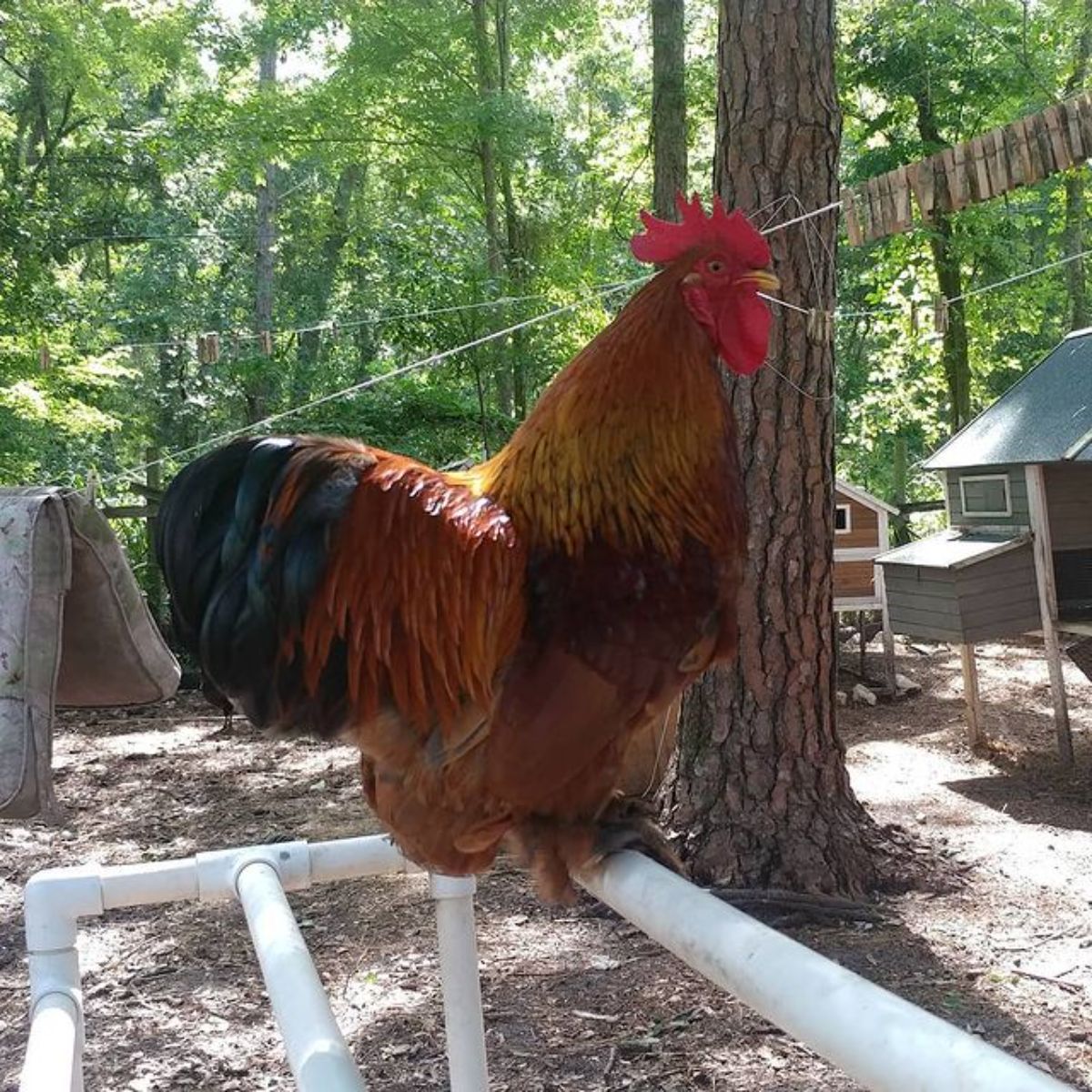 The Marsh Daisy chicken is an attractive bird with an upright, stately frame.
It is named for its orange and yellow plumage, which resembles a daisy flower. And believe it or not, they have green legs that resemble a daisy stem!
Roosters boast an impressive red rose comb and bright white earlobes. Hens have a smaller, but similar rose comb. Both sexes have red wattles as well.
You can find Marsh Daisy chickens in brown, wheaten, and buff. You may also find them in black or white, but these are much rarer than the other colors.
How Easy is it to Keep Marsh Daisy Chickens?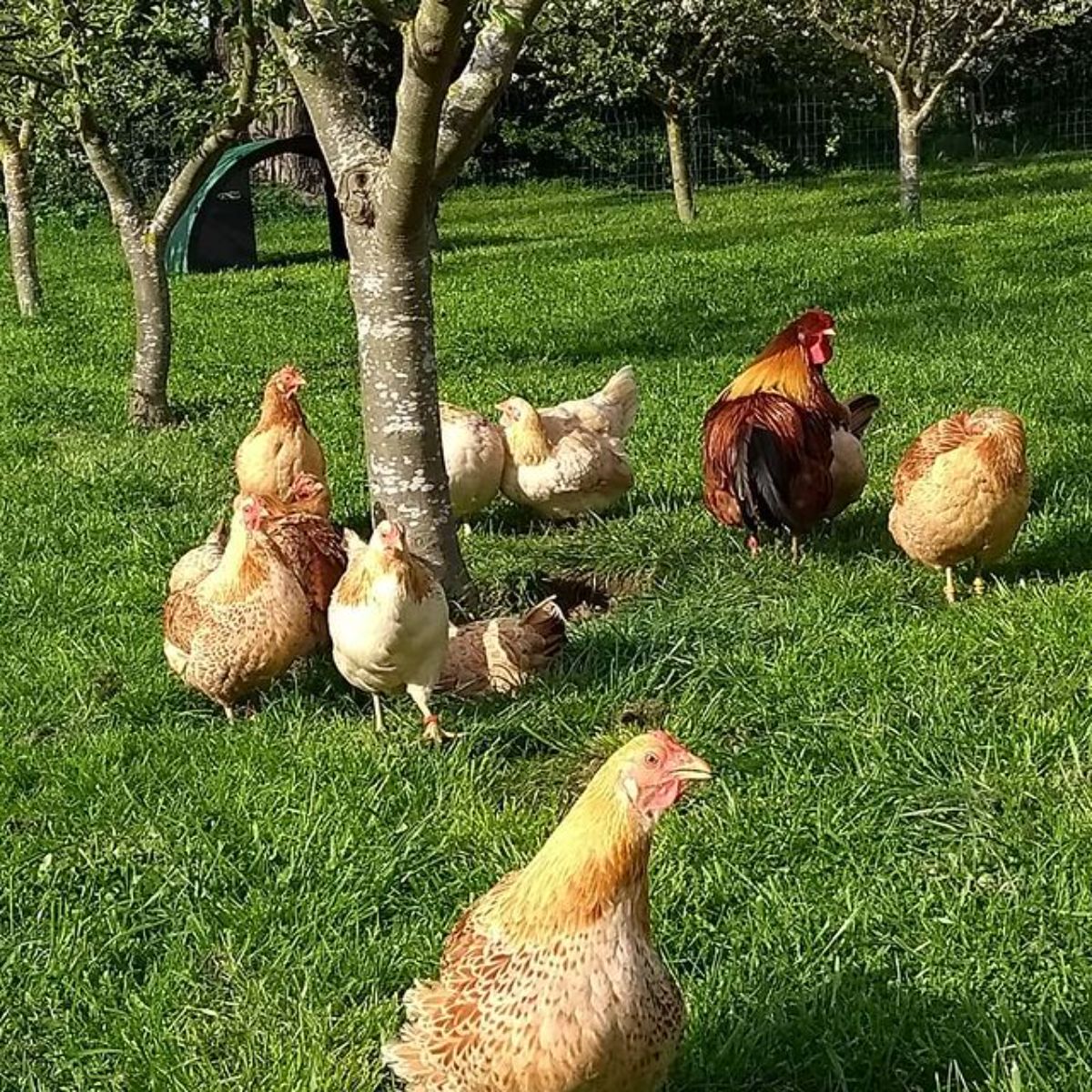 The Marsh Daisy chicken is a hardy breed that does best as a free-range bird. They are excellent foragers and enjoy roaming and searching for insects and other food. They are even happy being outside in the rain!
They make great pets for children because they are so gentle and easy to handle. Both hens and roosters are known to be non-aggressive and docile in nature.
Overall, the Marsh Daisy chicken is an active, friendly bird that is easy to care for.
Special Care and Considerations for Marsh Daisy Chickens
The Marsh Daisy is an incredibly rare breed, making it difficult to find outside of its native UK.
This small gene pool has led to the continuation of some fertility problems in the breed as well. They have a low hatch rate (50% is considered good).
However, Marsh Daisy breeders are trying to increase the number of birds in the UK and abroad. They are also working to improve the fertility rate.