The Jangmigye chicken is a rare breed of long-tailed fowl that originated in Korea. They are called "Ginkkori-Dak" in Korea. They are not used for meat or egg production but rather are raised for ornamental purposes.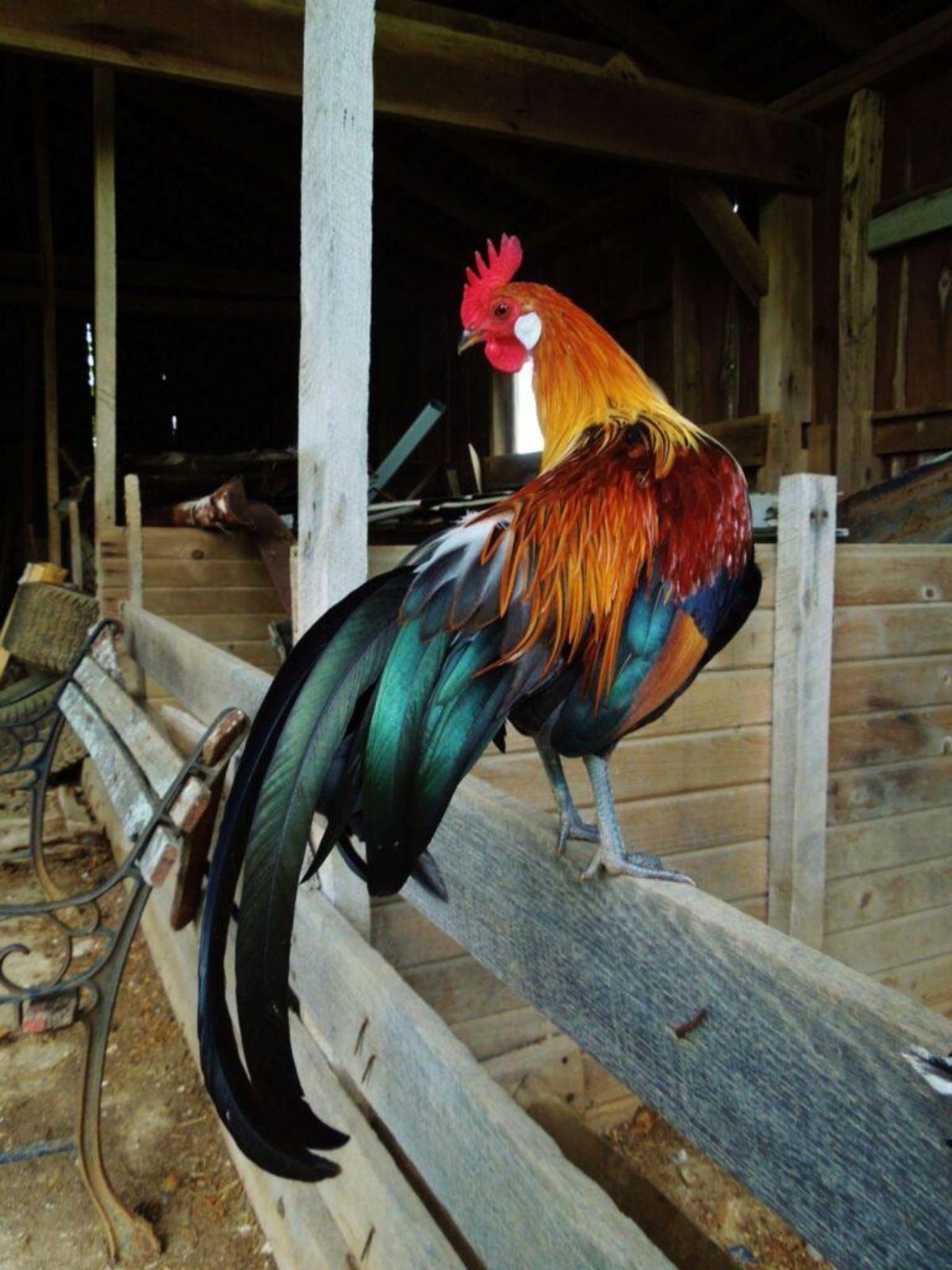 Jangmigye hens will lay light brown, medium-sized eggs but are not very prolific layers.
Jump to:

Jangmigye Chicken Breed Quick Info
Jangmigye Chicken Description
| | |
| --- | --- |
| Jangmigye Type/Size: | Standard |
| Feather Color: | Black Breasted Red or White |
| Leg Type: | Clean |
| Leg Color: | Leaden |
| Skin Color: | Yellow |
| Jangmigye Ease of Raising/Keeping: | Medium |
| Jangmigye Special Care Needs: | No |
| Is the Jangmigye breed a common, rare, or protected breed of chicken? | Rare |
Jangmigye Use
| | |
| --- | --- |
| Meat | No |
| Eggs | No |
| Dual Purpose | No |
| Jangmigye Temperament: | Friendly, calm |
| Jangmigye Ability/Likelihood to Free Range: | No |
Jangmigye Egg Production
| | |
| --- | --- |
| Egg Color | Light Brown |
| Egg Size | Small-Medium |
| Estimated Number of Eggs Per Year | Unknown |
| Likeliness to Brood Eggs/Raise Chicks | Medium |
Jangmigye Meat Production
| | |
| --- | --- |
| Dressed Weight Male | Unknown |
| Dressed Weight Female | Unknown |
Jangmigye Climate Tolerance
Jangmigye Age to Maturity
| | |
| --- | --- |
| Number of Months to Reach Full Size | 5 Months |
| Number of Months to Start Egg Laying | Unknown |
| Number of Weeks/Months to Reach Meat Harvest Size | N/A |
Jangmigye Size at Maturity
Origins of Jangmigye Chicken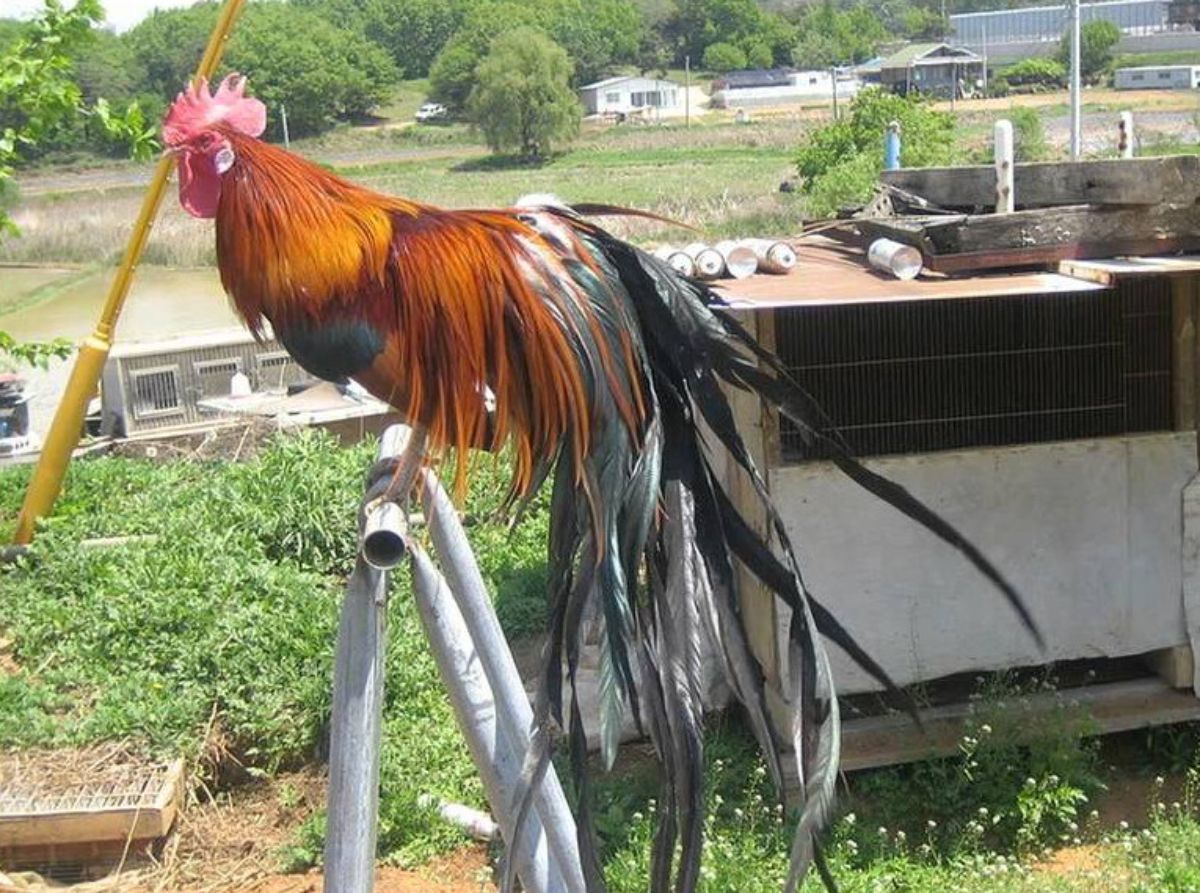 This breed originated in ancient Korea, in the Mahan Confederacy region. Their ancestor is most likely the Chinese Long-Tail chicken. They also share genetics with the Japanese Long-Tail chicken. Besides this, much of their history has been lost over the years and is unknown.
Today, they are used as show and pet birds. They are extremely rare, especially outside of Korea. There are efforts by breeders and enthusiasts within the country to restore the breed and bring it back from the brink of extinction.
Some Things to Know About Jangmigye Chicken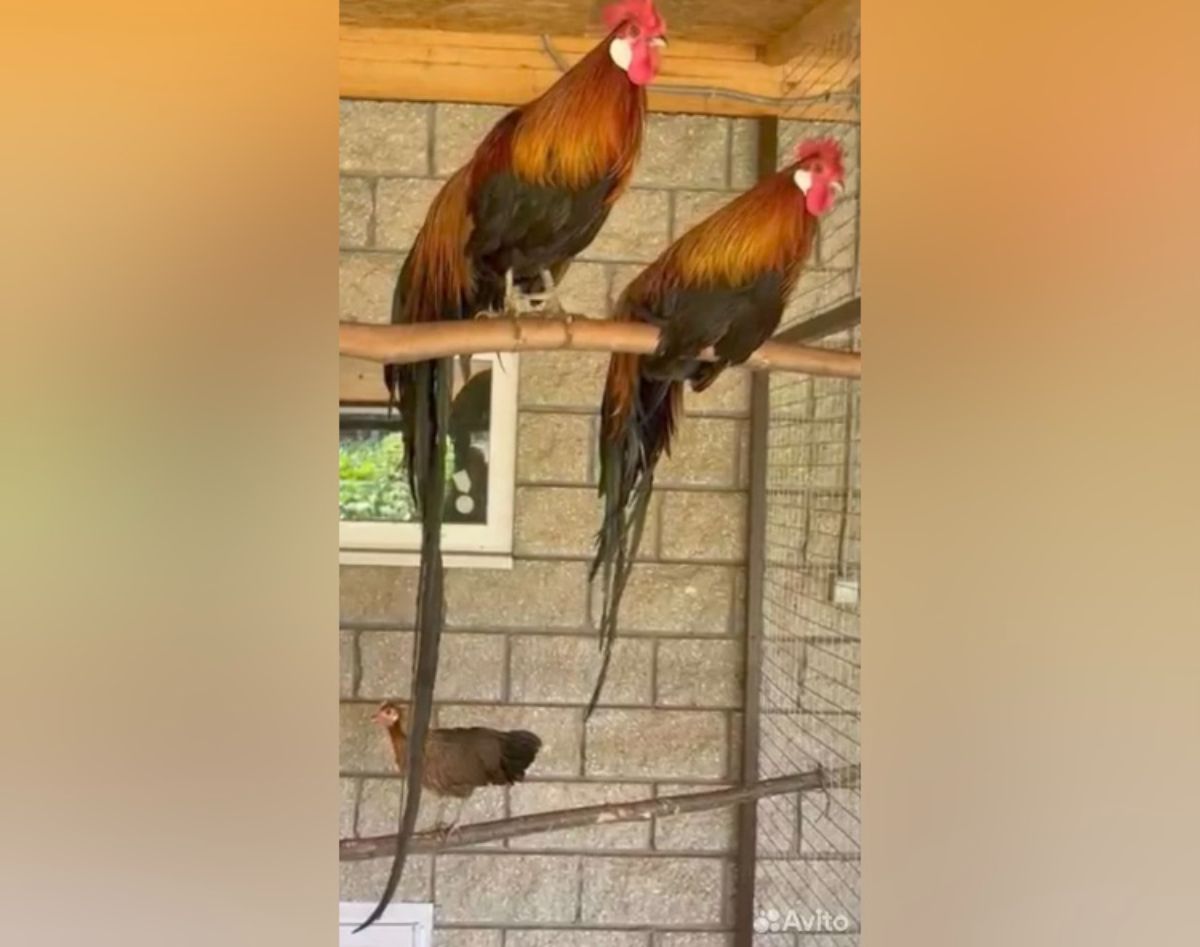 The Jangmigye chicken comes in either a black-breasted red or white plumage variety. They have long tails that drape beautifully. They are truly a stunning breed of chicken with their iridescent black and golden-red plumage. Their saddle and tail feathers drape off of their bodies, giving them a luxurious appearance. They have a similar appearance to the German Phoenix chicken.
They have a bright red single comb with red wattles and earlobes that are either red and white or just white. Their legs are a dark gray leaden color, with red-brown eyes and yellow skin.
How Easy is it to Keep Jangmigye Chickens?
The Jangmigye chicken breed is easy to care for and a great choice for beginner and experienced chicken owners alike. They do well in both hot and cold climates and are a hardy breed in general.
Because of their extremely long tail feathers, they are not ideal free-range chickens. They do best in confinement, in a clean, dry coop, and run where they are protected from the elements.
They excel as show and pet birds due to their beautiful plumage and docile nature. They are known to be friendly, calm birds and are ideal for beginning chicken owners and as pets for children.
Special Care and Considerations for Jangmigye Chickens
Like all chickens with a large single comb, the Jangmigye chicken is at risk of developing frostbite in the winter. You can help to protect their comb and wattles from freezing in low temperatures with a swipe of vaseline.