The Houdan chicken breed is now mainly used as an ornamental bird, although in France, it used to be a popular table bird, and they were decent egg layers. They can be dual-purpose if not used for exhibition.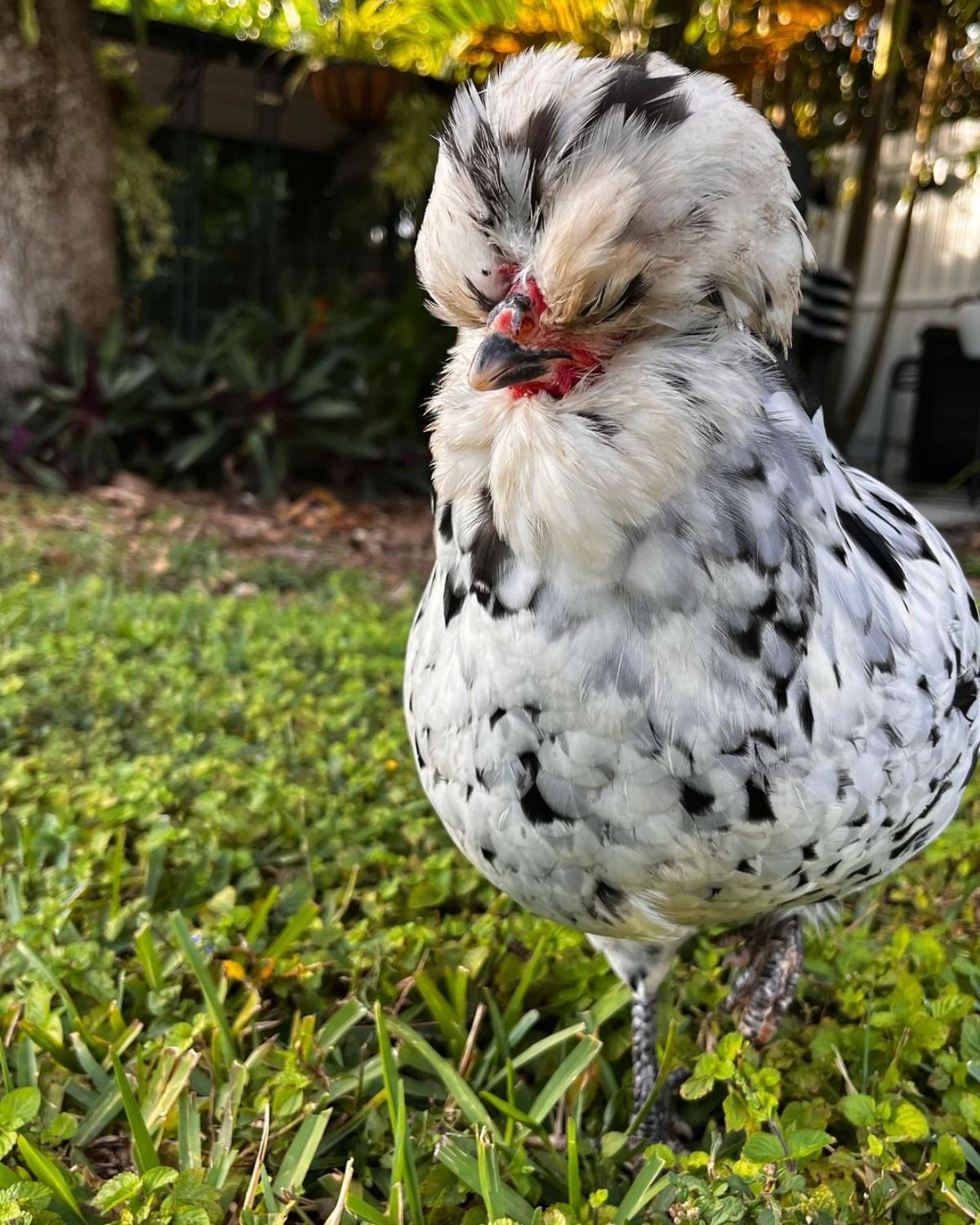 How to Buy Online Houdan Chickens

Mottled Houdan Chicks As low as: $5.50 - Read reviews
Mottled Houdan Hatching Eggs As low as: $4.50 - Read reviews
Houdan Chicken Breed Quick Info
Houdan Chicken Description
| | |
| --- | --- |
| Houdan Type/Size: | Standard |
| Feather Color: | Black and White |
| Leg Type: | Clean |
| Leg Color: | Tinted White |
| Skin Color: | White |
| Houdan Ease of Raising/Keeping: | Medium |
| Houdan Special Care Needs: | Yes |
| Is the Houdan breed a common, rare, or protected breed of chicken? | Rare, "critical" status |
Houdan Use
| | |
| --- | --- |
| Meat | Yes |
| Eggs | Yes |
| Dual Purpose | Yes |
| Houdan Temperament: | Friendly, sweet, docile |
| Houdan Ability/Likelihood to Free Range: | No |
Houdan Egg Production
| | |
| --- | --- |
| Egg Color | White |
| Egg Size | Medium |
| Estimated Number of Eggs Per Year | 200 |
| Likeliness to Brood Eggs/Raise Chicks | Moderate |
Houdan Meat Production
| | |
| --- | --- |
| Dressed Weight Male | 5.5 lbs |
| Dressed Weight Female | 4.5 lbs |
Houdan Climate Tolerance
Houdan Age to Maturity
| | |
| --- | --- |
| Number of Months to Reach Full Size | 5 Months |
| Number of Months to Start Egg Laying | 5 Months |
| Number of Weeks/Months to Reach Meat Harvest Size | 6 Months |
Houdan Size at Maturity
Origins of Houdan Chicken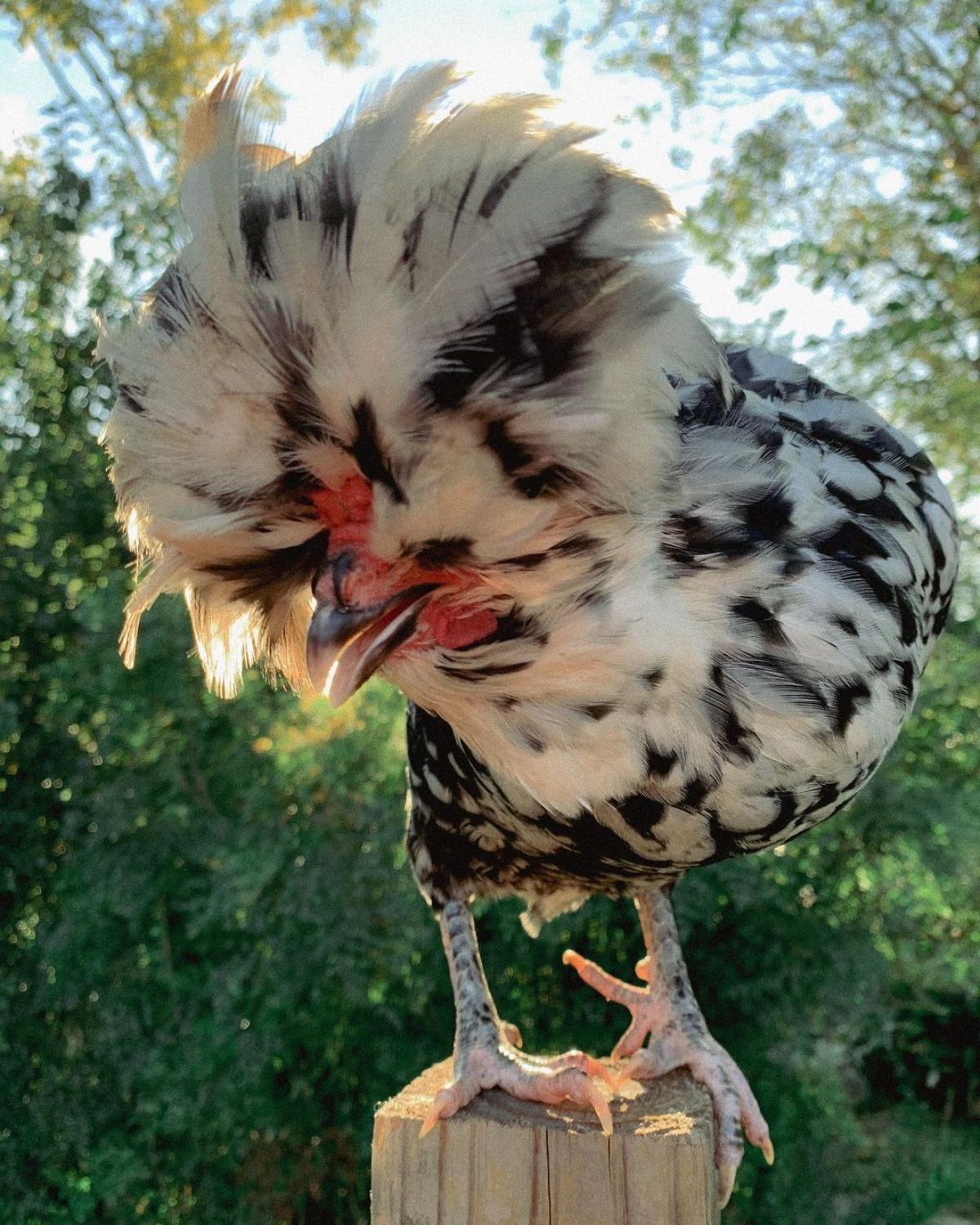 The Houdan chicken originated in the village of Houdan in Normandy, France. They were developed over many centuries using fowl that existed since Roman times! These ancient birds were crossed with crested landrace chickens in Normandy to create the Houdan breed.
This breed was imported into England in the 1850s and into the United States in 1865. They were accepted into the American Poultry Association's Standard of Perfection in 1874.
Today, they remain rare, but breeders and enthusiasts are working to increase the numbers of this beautiful, striking bird.
Some Things to Know About Houdan Chicken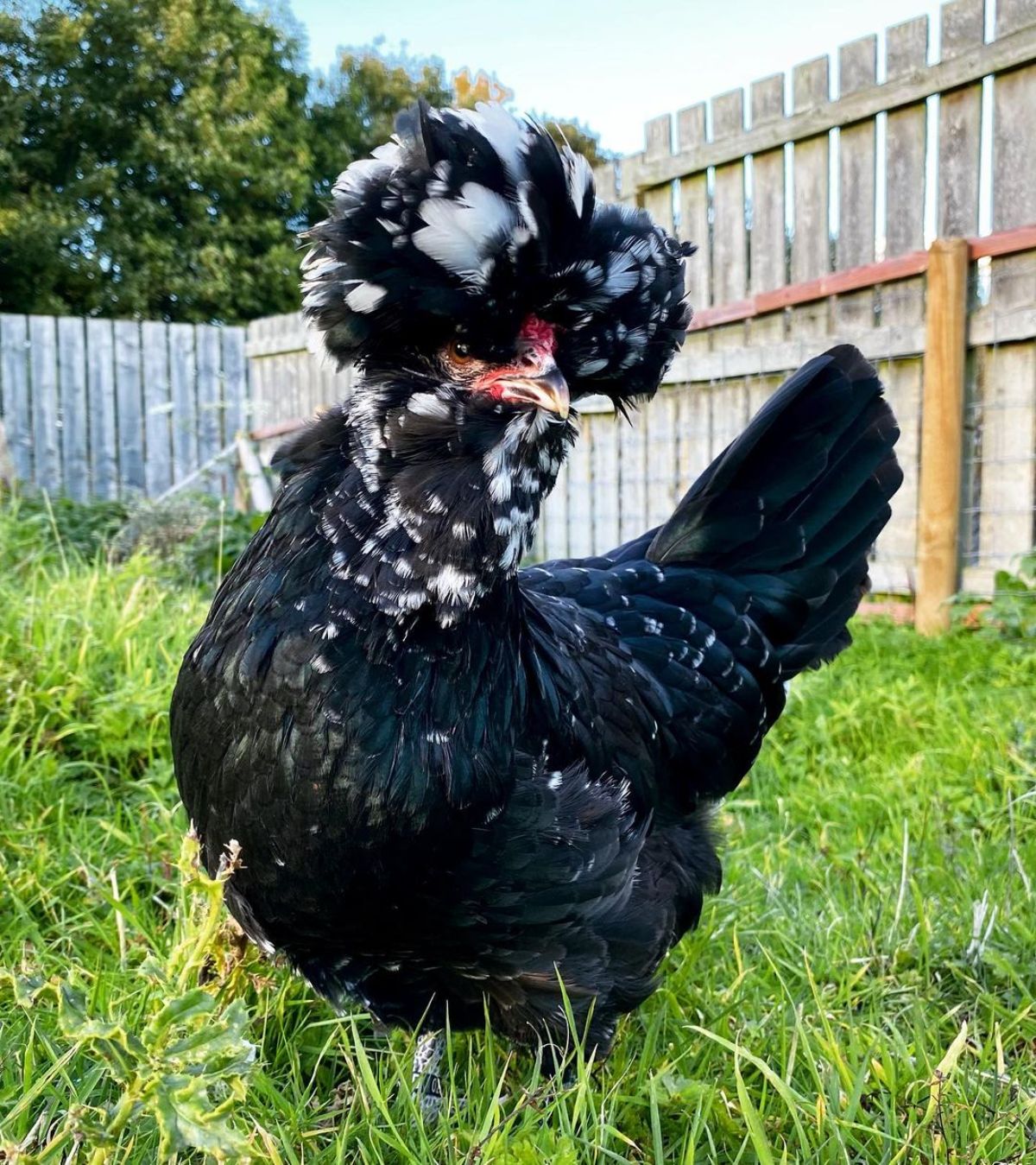 This beautiful bird has black plumage with white V-shaped tips on their feathers (mottled white on a black background). They have a fluffy muff of feathers at the throat and have a fifth toe.
Houdans have a flowing crest and a "V"-shaped comb. The crest and beard blend together to surround the head in fluffy feathers, giving them a unique look. They are medium-sized and have a long, compact body. They have white earlobes, reddish eyes, and pink-tinted white legs.
How Easy is it to Keep Houdan Chickens?
Houdan chickens do well in confinement but like to forage. Their large crest can make it difficult for them to spot predators, so it may need to be trimmed. They may not be safe in a free-range environment because of this inability to spot predators.
They are a generally sweet and docile breed but can be bullied by breeds that are more aggressive. It is best to keep them with similar-tempered breeds.
Special Care and Considerations for Houdan Chickens
The Houdan's large crest and beard makes them prone to frostbite in the winter. Their crest can be trimmed, so it does not become wet and freeze. Trimming their crest feathers can also help to keep their vision clear.