The Hamburg is a small, alert heritage breed. It is an ornamental and egg-producing chicken. They have an elegant shape and a beautiful, striking feather pattern.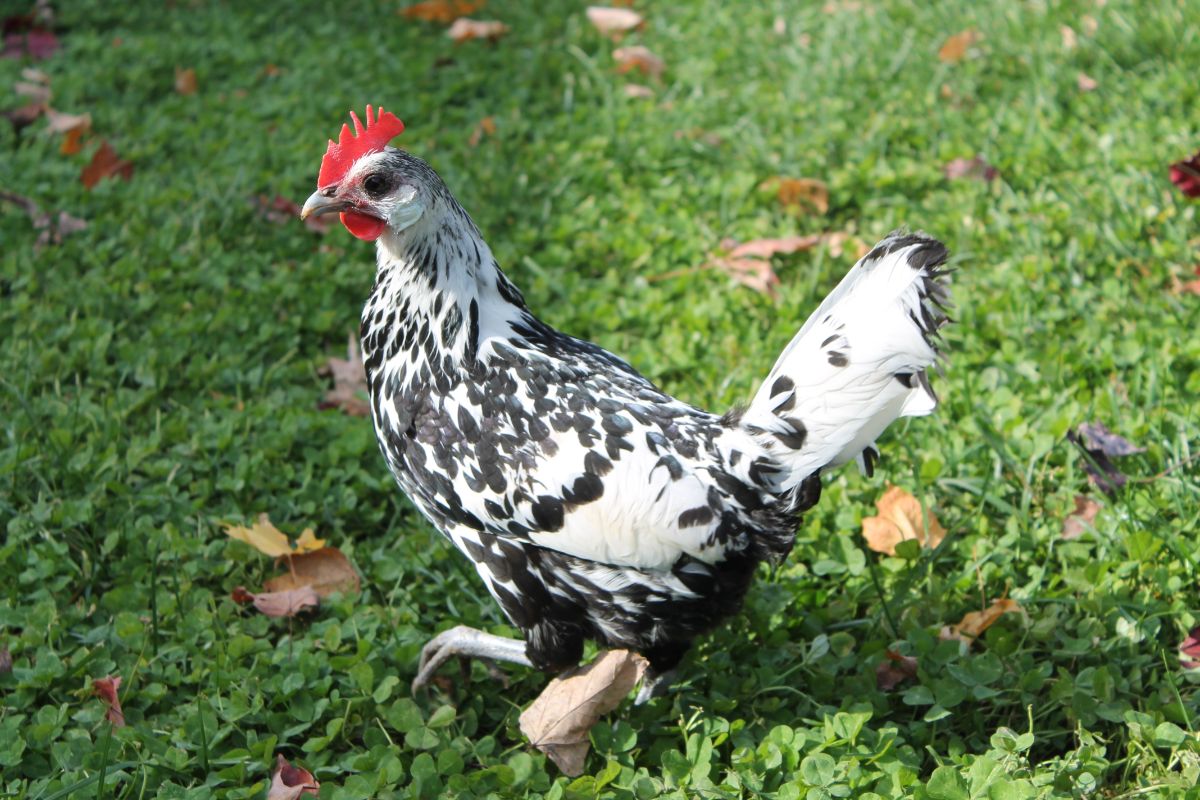 Hens are consistent layers over several years rather than prolific layers throughout the year. They love to forage and roam around, so they make excellent free-range birds.
Jump to:
How to Buy Online Hamburg Chickens

Silver Spangled Hamburg Chicks As low as: $3.30 - Read reviews
Hamburg Chicken Breed Quick Info
Hamburg Chicken Description
| | |
| --- | --- |
| Hamburg Type/Size: | Standard |
| Feather Color: | Black and white |
| Leg Type: | Clean |
| Leg Color: | Gray/Blue |
| Skin Color: | White |
| Hamburg Ease of Raising/Keeping: | Difficult |
| Hamburg Special Care Needs: | Yes |
| Is the Hamburg breed a common, rare, or protected breed of chicken? | Rare, "threatened" status |
Hamburg Use
| | |
| --- | --- |
| Meat | No |
| Eggs | Yes |
| Dual Purpose | No |
| Hamburg Temperament: | Active, alert, flighty |
| Hamburg Ability/Likelihood to Free Range: | Yes |
Hamburg Egg Production
| | |
| --- | --- |
| Egg Color | White |
| Egg Size | Small-Medium |
| Estimated Number of Eggs Per Year | 120-225 |
| Likeliness to Brood Eggs/Raise Chicks | Low |
Hamburg Meat Production
| | |
| --- | --- |
| Dressed Weight Male | N/A |
| Dressed Weight Female | N/A |
Hamburg Climate Tolerance
Hamburg Age to Maturity
| | |
| --- | --- |
| Number of Months to Reach Full Size | 4 ½ Months |
| Number of Months to Start Egg Laying | 4 ½ Months |
| Number of Weeks/Months to Reach Meat Harvest Size | N/A |
Hamburg Size at Maturity
Origins of the Hamburg Chicken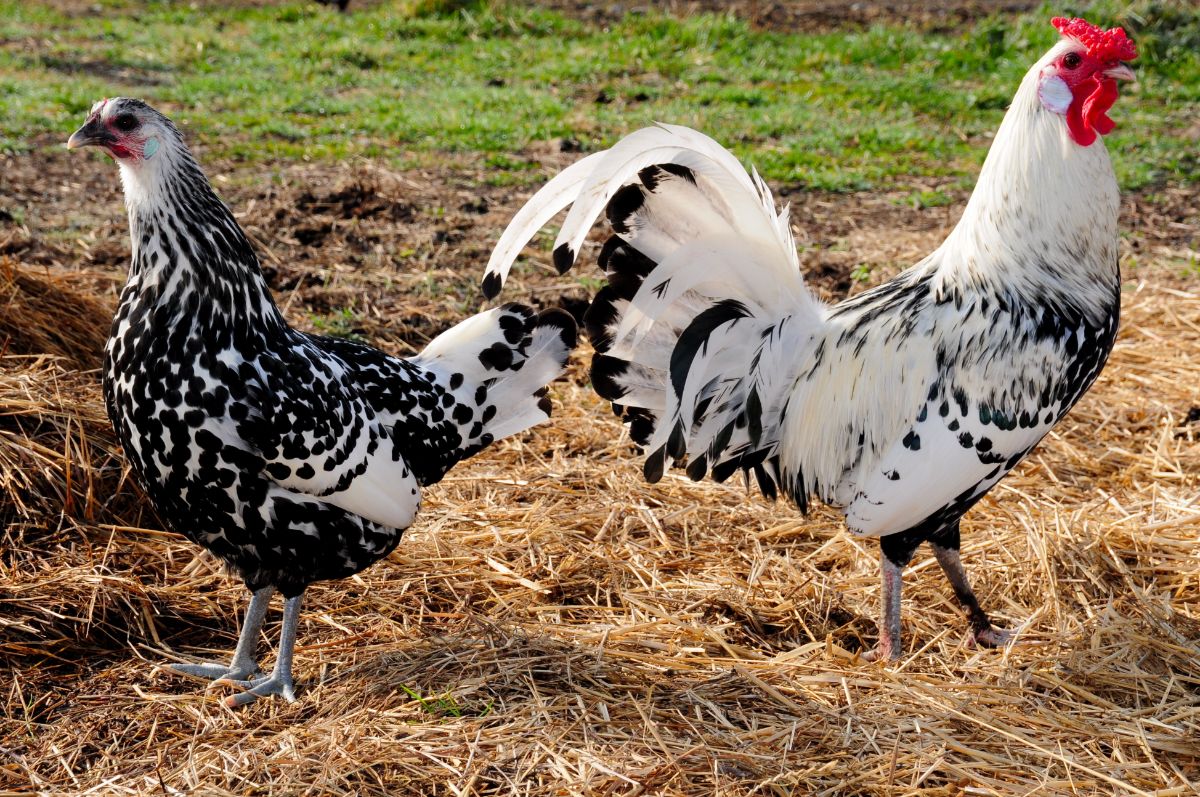 The Hamburg is a very old breed. They were found in Holland by the 14th century, although it is unclear how or when they first arrived there.
Their nickname became the "Dutch everyday layer" because of their prolific white eggs. By the 18th century, they were popular in both Holland and England.
They were imported to America by the early 19th century and were soon beloved for their egg production and beautiful plumage.
Some Things to Know About the Hamburg Chicken
This heritage breed has iridescent greenish-black spots on top of silvery-white feathers that give them a striking polka-dotted look. This silver-spangled color is unique to the Hamburg.
They have a red rose comb, white earlobes, and blue legs. Roosters boast a tall, full tail that makes them popular at exhibitions.
There are six color varieties of the Hamburg: silver penciled, golden penciled, white, black, golden spangled, and the most popular - silver spangled.
How Easy is it to Keep Hamburg Chickens?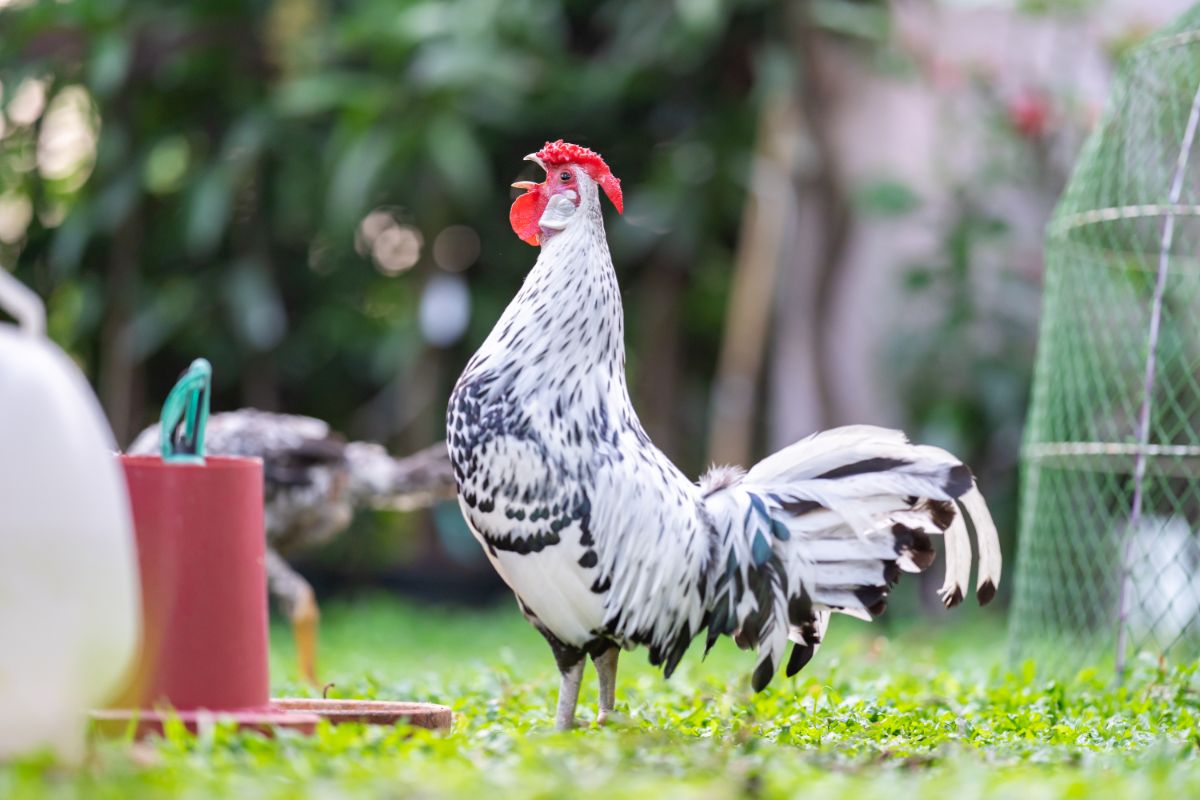 This breed is not a good choice for a pet chicken or for a flock that will be exposed to children.
Hamburgs are known to be very flighty, nervous, and alert. While this helps them to escape predators while free ranging, it also causes them to avoid human contact.
They do well in the heat but poorly in cold climates. Just makes sure they have access to shade and water when temperatures rise.
Other than their poor disposition, they are moderately easy to keep. They are healthy and robust, and hens rarely go broody. You will need to get a broody hen if you plan to hatch eggs and raise Hamburg chicks.
They are an economical breed to keep because they eat less than other breeds due to their small size.
Special Care and Considerations for Hamburg Chickens
Hamburg's flightiness and nervousness can make it difficult to administer medical treatments. Early handling can help to get them used to human contact and make later handling easier.
Hamburgs are known to be noisy. They may not be the breed for you if you live in an urban area or close to neighbors.
They don't like confinement and prefer to be outdoors in a free-range setup. Be aware, though, that they are lightweight and can fly fairly high - many owners have noticed their Hamburg chickens nesting in hedges and roosting in trees.
Finally, roosters can be aggressive, so it's best not to keep them in a mixed flock with other breeds of chickens.