The Frizzle chicken breed is one of the most unique-looking chickens out there. Their fuzzy, curly appearance is matched by a fun, lovable personality, making them the perfect pet chicken.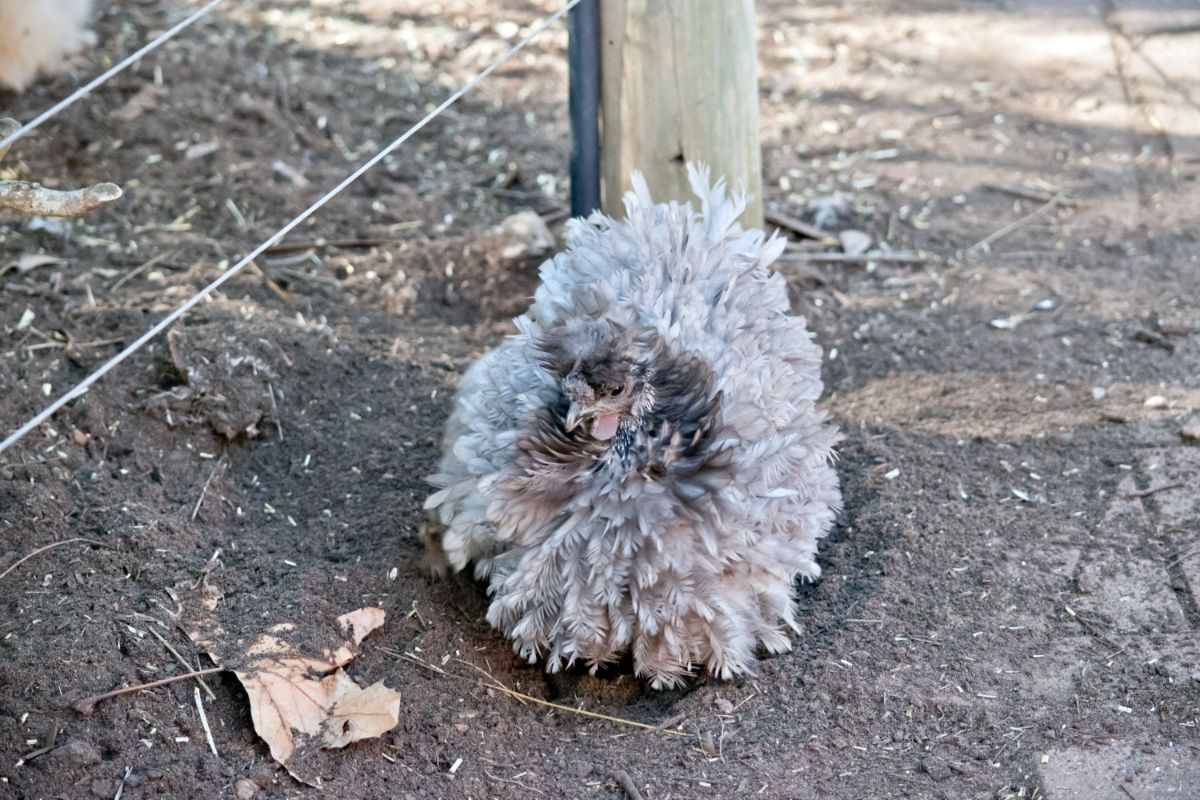 There is some debate as to whether or not they are a distinct breed. In the United States, frizzling is considered a characteristic that is seen in breeds like the Cochin. But in countries like Australia, France, the UK, and Germany, Frizzles are considered a breed of their own.
These chickens are not known for their egg-laying abilities or meat production. They are truly meant to be a pet or show birds.
However, they will lay about 120-150 cream-colored eggs per year. And when allowed to sit on their eggs, they tend to be broody and make excellent mothers.
Jump to:

Frizzle Chicken Breed Quick Info
Frizzle Chicken Description
| | |
| --- | --- |
| Frizzle Type/Size: | Bantam |
| Feather Color: | Varies |
| Leg Type: | Feathered |
| Leg Color: | Yellow |
| Skin Color: | Yellow |
| Frizzle Ease of Raising/Keeping: | Difficult |
| Frizzle Special Care Needs: | Yes |
| Is the Frizzle breed a common, rare, or protected breed of chicken? | Heritage |
Frizzle Use
| | |
| --- | --- |
| Meat | No |
| Eggs | Sometimes |
| Dual Purpose | No |
| Frizzle Temperament: | Friendly, docile, calm |
| Frizzle Ability/Likelihood to Free Range: | No |
Frizzle Egg Production
| | |
| --- | --- |
| Egg Color | Cream |
| Egg Size | Small |
| Estimated Number of Eggs Per Year | 120-150 |
| Likeliness to Brood Eggs/Raise Chicks | Medium |
Frizzle Meat Production
| | |
| --- | --- |
| Dressed Weight Male | N/A |
| Dressed Weight Female | N/A |
Frizzle Climate Tolerance
Frizzle Age to Maturity
| | |
| --- | --- |
| Number of Months to Reach Full Size | 6 Months |
| Number of Months to Start Egg Laying | 6 Months |
| Number of Weeks/Months to Reach Meat Harvest Size | N/A |
Frizzle Size at Maturity
Origins of the Frizzle Chicken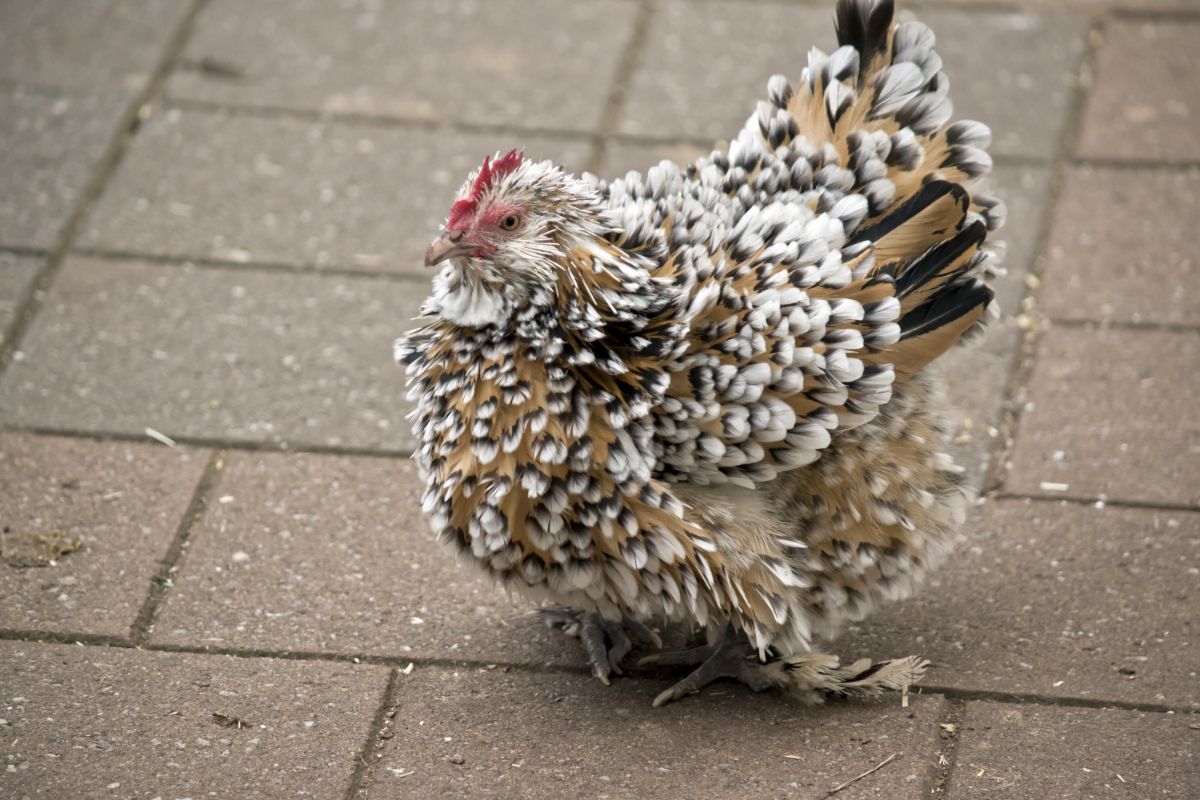 This small, fluffy chicken was first mentioned in the 17th century. They originated in the Far East and East Indies, possibly in China.
Charles Darwin came across them in his work, calling them Caffie Fowl.
Some Things to Know About the Frizzle Chicken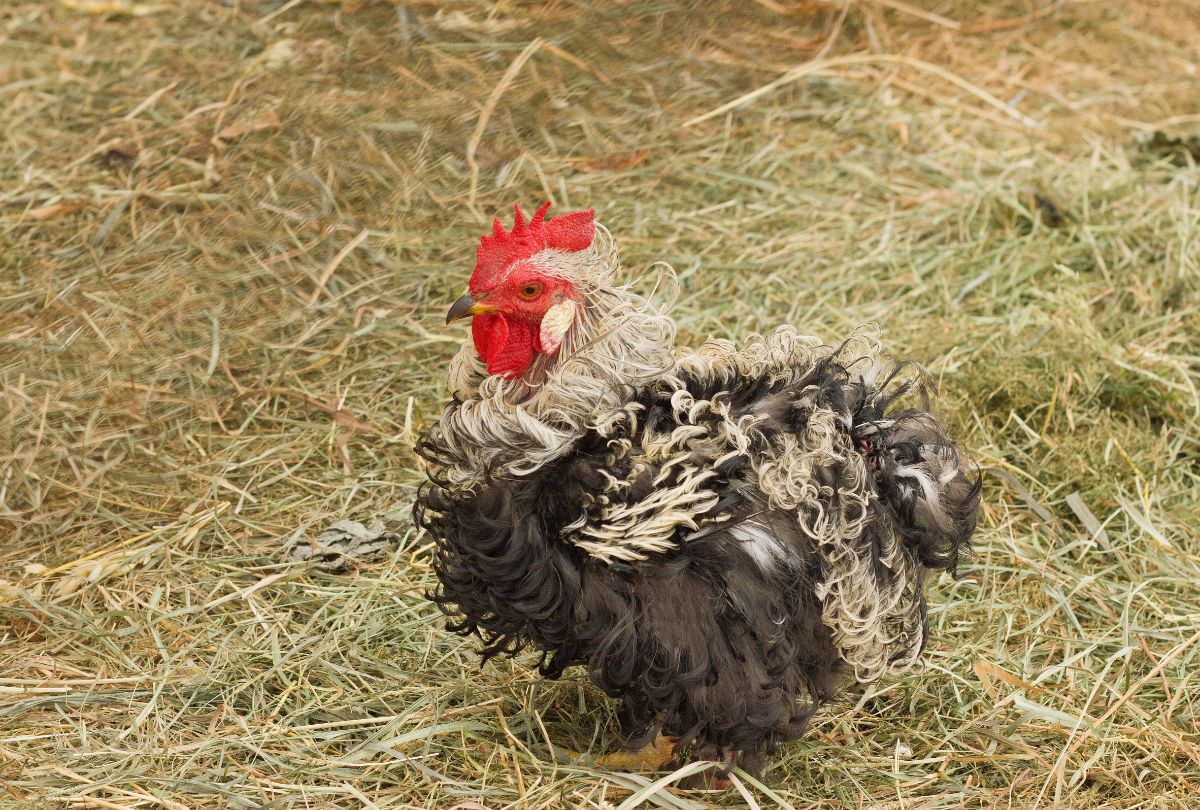 The Frizzle chicken's unique, raggedy appearance is caused by something called frizzling, which they have aptly named after.
This phenomenon is caused by an incomplete dominant gene. It is when the feathers of a chicken start to curl upward and outward from the body.
In fact, it's the shaft of the feather that starts to twist, giving the bird a ruffled appearance.
The Frizzle's frizzled plumage is a characteristic they share with some other chicken breeds. These include the Cochin, the Polish, Plymouth Rocks, and Japanese Bantams.
They have a strong, short, yellow beak and bright red eyes. Their earlobes and wattles are also red and medium-sized. They have single, red, upright combs.
Frizzles have a short, broad frame. Their tails and wings are both long, and they have feathered yellow legs. They come in a vast array of colors, including buff, cuckoo, red, and spangled. Their color will depend largely on which breed the parent Frizzle was crossed with.
How Easy is it to Keep Frizzle Chickens?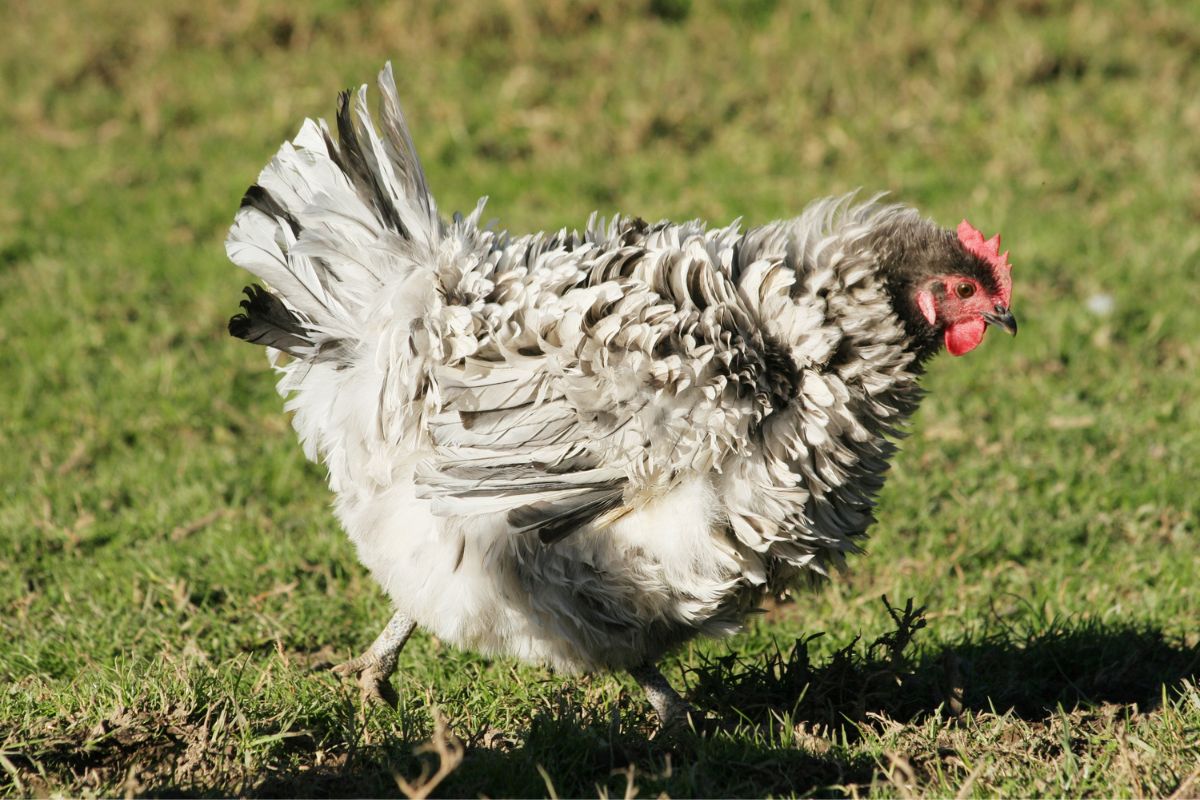 The Frizzle chicken breed is a wonderful choice for beginner chicken owners. They are docile and sweet and are very popular pet chickens. They are friendly, easily tamed, and enjoy being around people.
However, if you're thinking about getting your own Frizzle, be aware before they require a lot of maintenance. In fact, they are considered the "golden doodles of chickens."
These are not the hardiest of chicken breeds due to their unique feathers. They don't handle cold, heat, or precipitation very well.
They also require grooming and hygiene care to upkeep their curly plumage. Their head feathers can impede their vision, so they may need to be trimmed slightly at the tips so your Frizzle can see.
(Note: Cutting the tips of the feathers is not allowed in the show ring, so don't do this if you're planning to exhibit your Frizzle.)
A good trick is to talk or whistle to your birds as you enter the coop so that they know it's you and not a predator entering, especially if you decide not to trim their head feathers.
They cannot fly, so their perches should be set low to the ground so they can reach them. They are not ideal free-range birds, as they cannot fly or run quickly to get away from predators.
Special Care and Considerations for Frizzle Chickens
As with all chickens with a single comb, there is a risk of frostbite in the winter. When temperatures drop, a swipe of vaseline on their comb can help to protect it from frostbite.
Another thing to be aware of when raising frizzle chickens is crossbreeding them to each other. This results in a crossbreed called the Frazzle, which is also called "curly chicks".
However cute they may be, they are prone to a variety of health issues, including brittle feathers, heart problems, and other physical issues. They also have a short lifespan.
Therefore, responsible breeders only breed their Frizzles to "normal" chickens to prevent Frazzles from occurring. Another thing to be aware of when caring for Frizzles is their flock mates. Due to their gentle, friendly nature, they do best with other non-aggressive breeds like Cochins and Polish chickens