The Faverolle chicken breed (also called the Salmon Faverolle) hails from France. Hens are excellent layers and are known for continuing to lay through the winter months when other breeds slow down or stop laying completely.
They lay medium, cream-colored eggs and are very likely to become broody. This is good news if you plan on raising chicks, as they make excellent mothers. If you don't want your hens to go broody, be sure to observe their behavior and collect eggs as soon as possible to prevent them from sitting on them for too long.
They are not generally used for meat production, as they meat is considered to be of poor quality.
Jump to:
How to Buy Online Faverolle Chickens

Salmon Faverolle Chicken As Low as: $3.40 - Read reviews
Salmon Faverolle Hatching Eggs As Low as: $3.84 - Read reviews
Faverolles Chicken Breed Quick Info
Faverolles Chicken Description
| | |
| --- | --- |
| Faverolles Type/Size: | Standard |
| Feather Color: | Light Yellow |
| Leg Type: | Feathered |
| Leg Color: | White |
| Skin Color: | White |
| Faverolles Ease of Raising/Keeping: | Easy |
| Faverolles Special Care Needs: | No |
| Is the Faverolles breed a common, rare, or protected breed of chicken? | Rare, "watch" status |
Faverolles Use
| | |
| --- | --- |
| Meat | No |
| Eggs | Yes |
| Dual Purpose | No |
| Faverolles Temperament: | Docile, gentle, friendly |
| Faverolles Ability/Likelihood to Free Range: | No |
Faverolles Egg Production
| | |
| --- | --- |
| Egg Color | Cream |
| Egg Size | Medium |
| Estimated Number of Eggs Per Year | 150-200 |
| Likeliness to Brood Eggs/Raise Chicks | High |
Faverolles Meat Production
| | |
| --- | --- |
| Dressed Weight Male | N/A |
| Dressed Weight Female | N/A |
Faverolles Climate Tolerance
Faverolles Age to Maturity
| | |
| --- | --- |
| Number of Months to Reach Full Size | 19 weeks |
| Number of Months to Start Egg Laying | 19 weeks |
| Number of Weeks/Months to Reach Meat Harvest Size | N/A |
Faverolles Size at Maturity
Origins of Faverolles Chicken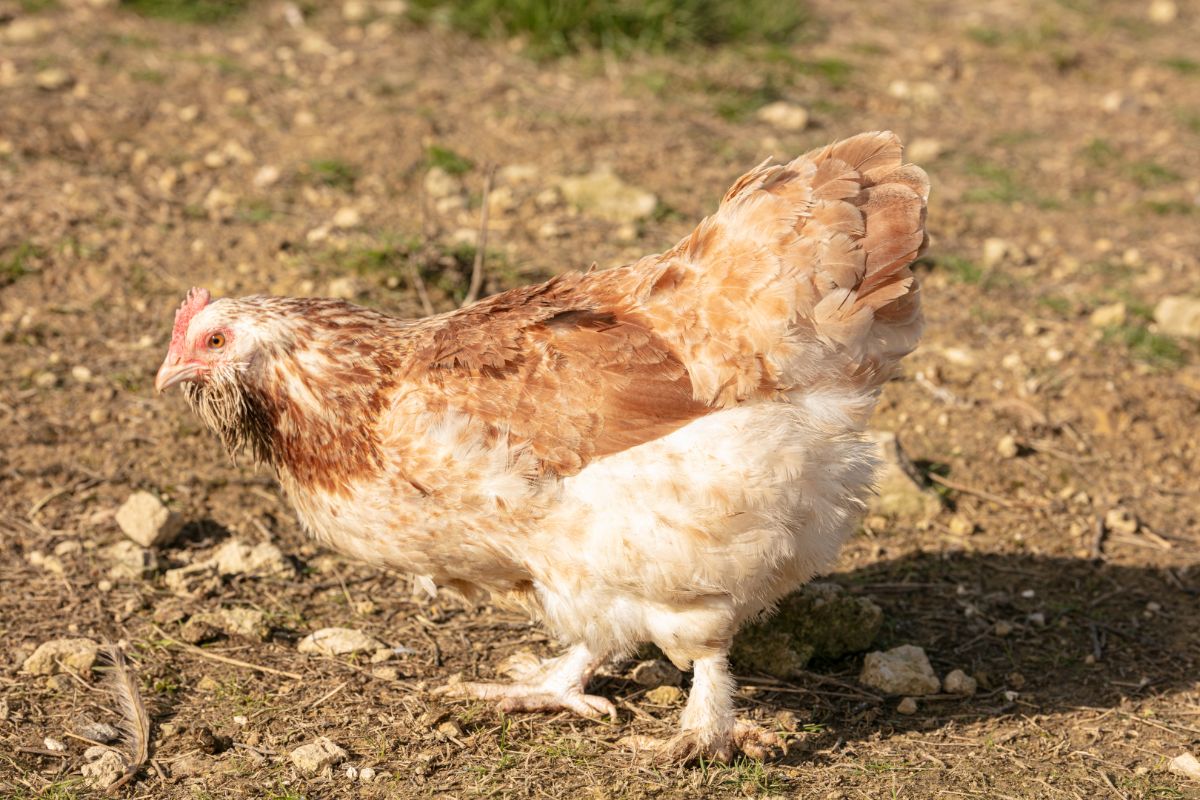 The Faverolle chicken was originally bred in France to meet a demand for birds that could lay eggs during the winter. They were named after the village of Faverolles, which lies to the southwest of Paris.
Many different breeds were crossbred to achieve the Faverolle, including the Dorking, Brahma, and Malines. By the early 20th century, it was considered the best French breed to ever have been developed.
Today, this breed is very rare, especially outside of France. They are raised mainly as show birds and by novelty breeders.
Some Things to Know About Faverolles Chicken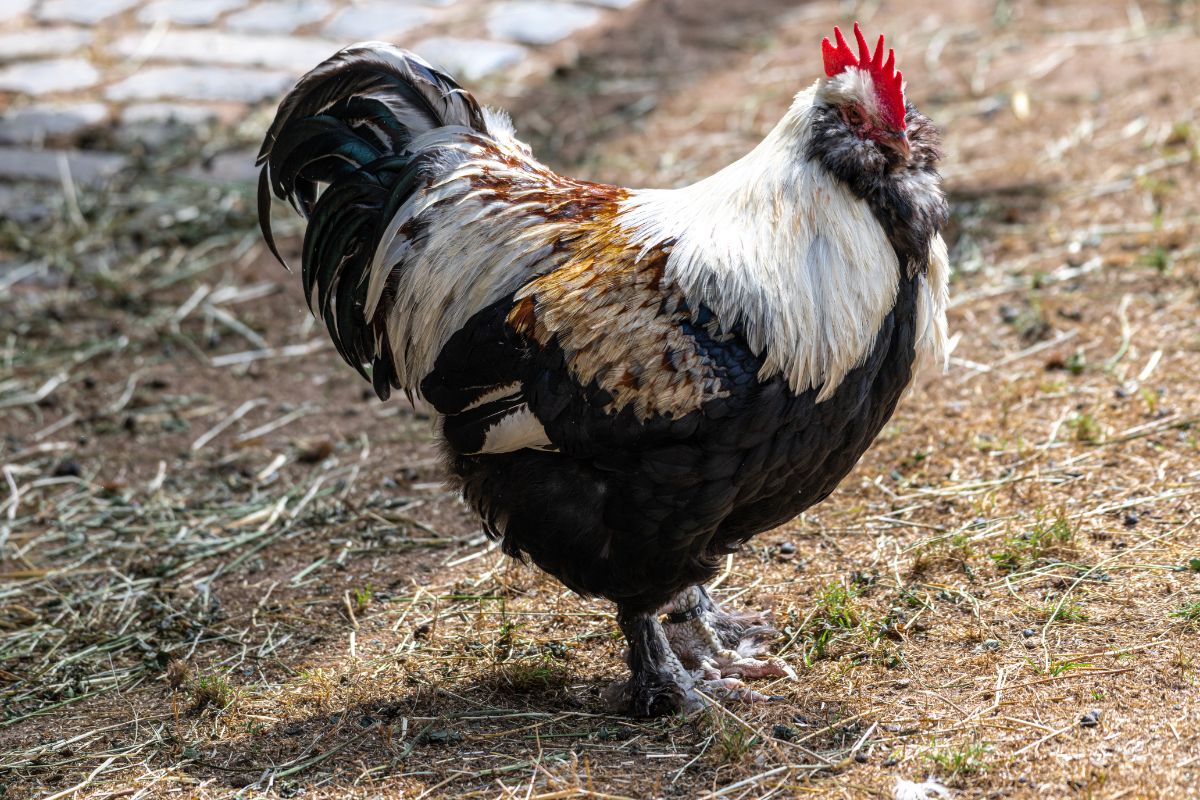 Faverolle chickens are a large breed with beautiful light golden plumage. Roosters are straw-colored with black and reddish-brown markings throughout their plumage. Hens, on the other hand, are creamy white and salmon brown. They have a red single comb and wattles.
These chickens have a few unique characteristics when it comes to their appearance. First, they have five toes instead of the usual four. They also have feathered legs and feet, which helps to keep them warm in the winter. Finally, they have a beard and muff.
How Easy is it to Keep Faverolle Chickens?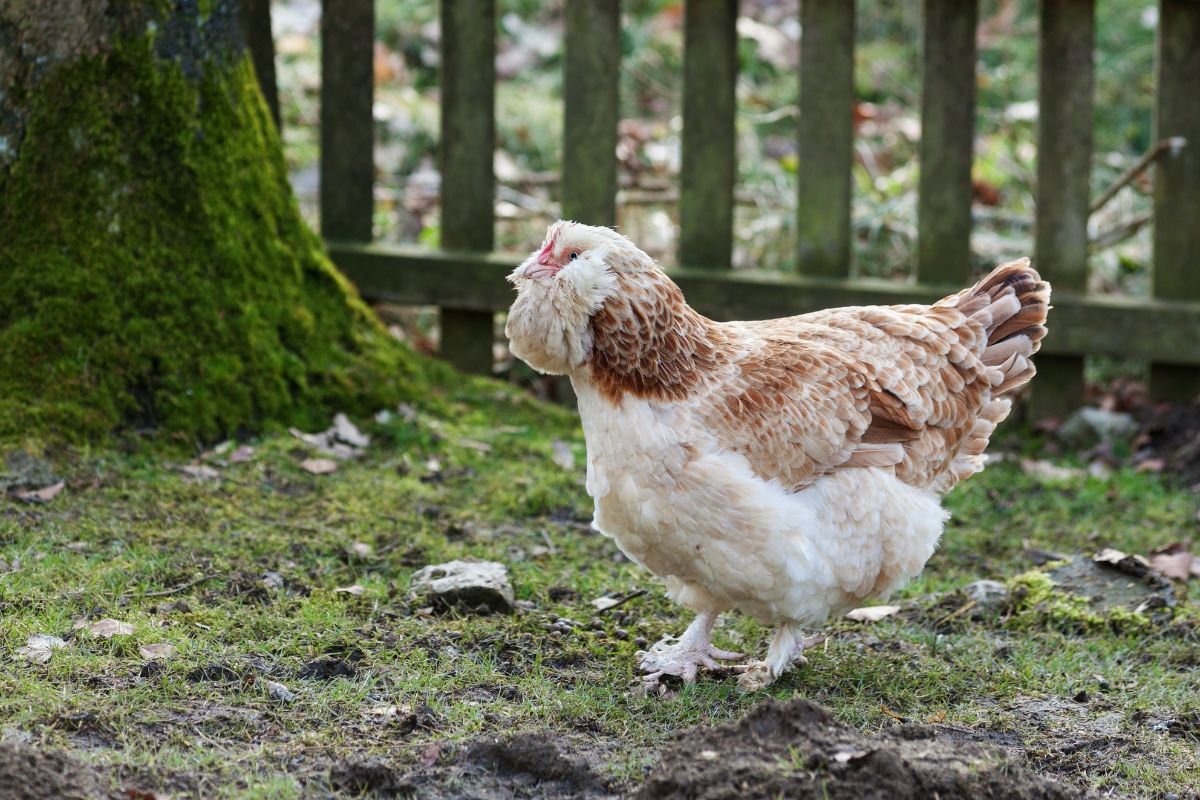 These chickens do not do well in free-range situations; they do best in coops and covered runs. However, they are very cold hardy due to their feathered legs and feet.
They are wonderful pets and show birds, as they have a gentle, friendly disposition. They enjoy human interaction, especially if they were raised around people.
One thing to be aware of when it comes to Faverolles is their noise level. They are an alert breed and will make a lot of noise if there is a strange animal or person approaching. If you live close by to neighbors, this may not be the best breed for you.
Special Care and Considerations for Faverolle Chickens
As with all chickens with a single comb, frostbite can be an issue in the winter. You can use a bit of vaseline to help protect their comb from freezing in low temperatures.
Otherwise, the Faverolle is a healthy, hardy breed that is not prone to many health problems.