This post may contain affiliate links. Please read my disclosure for more info.
Choosing the best paint or stain for a chicken coop can be quite the dilemma.
You want to go with the right type of paint or stain that'll treat your wood and protect it against the elements. As well as making your coop look nice, be easy to clean, and of course - provide a nice home for your chickens that other backyard chicken owners will be jealous of.
The right product will do this for you. Here are some of the best paints and stains for the interior and exterior of your coop. As well as all the information you'll need about which product is best, what to look for, and how to use them.
Best Exterior Paint for a Chicken Coop: My Picks
Painting the exterior of a chicken coop will add years to the life of the coop and keep it looking better. Plus, you can get creative with the colors and have yourself an awesome looking coop if you want.
Cuprinol Garden Shades External Woodcare
I'm a big fan of Cuprinol, I've been using it for years on fences, sheds, and chicken coops.
The colors are rich and vibrant, it's water-based and free from some of the harmful chemicals traditional paints contain.
It's perfect for the outside of your coop, inside too if you want. I can say from experience, it offers good protection for wood and lasts years before needing another coat.
You can check out the latest price and reviews for The Cuprinol External Paint range on Amazon here.
Best Interior Paint for a Chicken Coop
A lot of people paint the interior of a chicken coop as it's easier to clean than untreated wood. Plus, little critters find it harder to set up home and lay eggs in painted wood.
The Real Milk Paint Co.
If you want a paint that's 100% safe and free from any potentially harmful chemicals, The Real Milk Paint Co. is as good as it gets.
They say there is nothing in their paint that "you couldn't find on your daily walk" - that's pretty cool.
Olden day paints used milk paints, and they've bought it back. With 56 different colors, you can give your coop a rustic and colorful look that's going to last.
You can check out the latest price and reviews for The Real Milk Paint Co. range on Amazon here.
ECOS WoodShield Stain Varnish (Poultry Safe)
ECOS manufactures a range of environmentally friendly stains that are just as safe for inside your home as your backyard chicken's home.
There is no odor, it's water-based, and it's perfect if you suffer from any allergies yourself. I have a friend with sensitivities to regular paints that will only use ECOS.
They have various types of stains for different woods etc so it's worth checking out their range to see if they have exactly what you're looking for.
You can check out the latest price and reviews for the ECOS WoodShield Satin range on Amazon here.
Paint vs Stain: What's the Difference?
If you're wondering if you should paint or stain your coop, there are some differences between the two that might help you make up your mind.
If you've seen or used both you'll know that paint is thicker and tends to sit on the surface you use it on. While a stain is thinner and tends to soak into the wood as you brush it in. This results in a very different look, the paint will cover your coop while stain will color the wood.
The advantages of using a stain over paint are:
No need to prime the wood first
It looks natural and is easy to use
Doesn't peel or chip like paint does over time
You can usually get away with one good coat
The disadvantages of using a stain over paint are:
There is less choice over color
You can't use it to cover paint, only onto wood surfaces
It can look patchy if you're not through
So, the bottom line as I see it is if you want a strong color and look or contrasting colors for your coop - use paint.
If you want a more natural wood look and have a lot less time to spend on treating it - use stain.
How to Find Livestock Safe Paint That's Safe for Chickens
When looking for paint and stains to treat your coop, you need to be sure the products you're using are 100% safe to be used around animals.
If the product says it's "pet-safe", awesome. But more often than not it won't. You need to look for products that do not contain any toxic chemicals or volatile organic compounds (VOCs).
Water-based and odor-free paints are the best choice too. These let off fewer fumes while painting and after.
The good news for you is that I did all this work for you when choosing the products I've listed above.
How to Paint a Chicken Coop (Video)
It's much easier to show you how to paint a chicken coop than describe it. There are plenty of awesome videos on the topic, this one below will take you through the basics. I recommend giving it a watch:
Chicken Coop Color Schemes & Ideas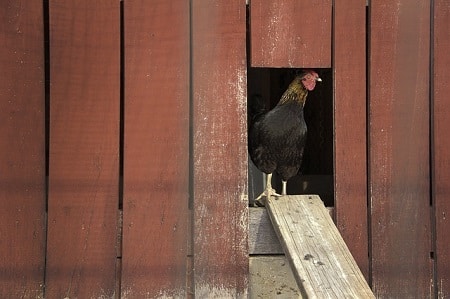 I've seen some awesome, colorful coops over the years. While I'm always envious, I have to admit that I've always gone down the traditional route (ok, I'm boring) and patined mine bard red for the most part.
If you're facing the exciting challenge of painting a coop and your chicken run and are in need of some ideas. Some of the popular color combinations to consider are:
Barn red with a white trim
Turquoise with a white trim
Bright blue with a grey trim
Soft yellow with a white trim
Brown stain all over - like a rabbit hutch
White all over - this actually looks really good if it's kept clean
In Summary
There are loads of great paints and stains on the market that are great for coops. As long as the product is safe to use around chickens, it has a good reputation and comes with a guarantee - the main dilemma is picking the perfect color.
If you're giving your coop a makeover and enjoyed this article about finding the best paint and stains, you'll like - how to protect your coop against roaches.